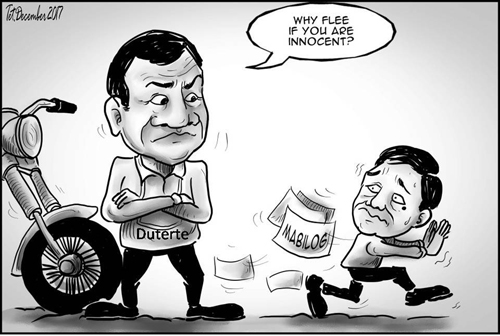 Thursday, December 7, 2017


IT WAS IN June this year when President Rodrigo Duterte issued Executive Order (EO) No. 28 regulating the use of firecrackers and other pyrotechnic devices. The move should help curb the number of firecracker-related injuries this holiday season.
Limiting the use of firecrackers, as intended by the EO, is a laudable measure. A similar policy has been implemented in some parts of the country, including the President's hometown when he was still mayor of Davao City, and it has been proven effective. The challenge now is on the EO's implementation. Let us see how local government units, law enforcement agencies and other concerned government bodies fare in this regard.
With the EO in place, it behooves Congress to enact legislation limiting and regulating the use of pyrotechnic devices, too, and banning the manufacturing and sale of dangerous firecrackers. It is time for Congress to adopt a similar measure. The EO, and a legislation by Congress, would be a big boost to the Department of Health's (DOH) anti-firecrackers drive, particularly during the New Year celebration, to prevent deaths and injuries.
DOH data showed the country having about 1,000 firecracker-related injuries per year, with an estimated P10 million in health cost. During the celebration of New Year 2017 alone, there were about 350 firecracker and firework-related injuries. But what was more aggravating was the fact that more than half of the victims were children.
With the issuance of EO No. 28, and hopefully a similar law passed by Congress, unnecessary injuries can be prevented.