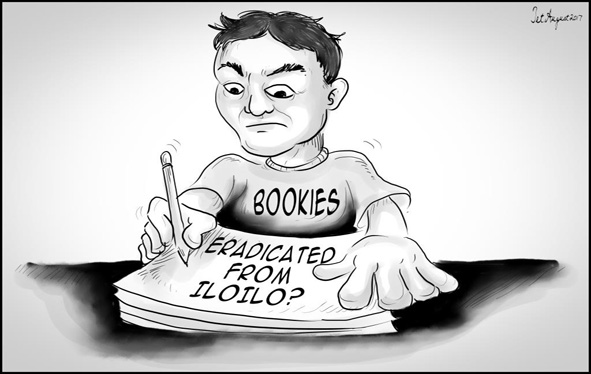 [av_image src='http://www.panaynews.net/wp-content/uploads/2017/08/editorial-cartoon-for-aug13.jpg' attachment='113801′ attachment_size='full' align='center' styling=" hover=" link=" target=" caption=" font_size=" appearance=" overlay_opacity='0.4′ overlay_color='#000000′ overlay_text_color='#ffffff' animation='no-animation'][/av_image]

Indigenous peoples
NOT MANY Filipinos knew or even cared that it was the International Day of the World's Indigenous Peoples (IPs) on Aug. 9. No wonder calls for stronger support and protection for our indigenous peoples usually fall on deaf ears. It's not surprising, therefore, that this sector of society is marginalized. It is sad, too, to see Filipinos snicker or roll their eyes when they encounter Atis, Badjaos, etc. More than anything else, they are Filipinos and human beings, too.
There appears to be no significant changes to the situation of our IPs despite the enactment of the Indigenous Peoples' Rights Act and the adoption of the United Nations Declaration on the Rights of Indigenous Peoples. Everyone is encouraged to provide the needed support for our IPs to strengthen their part in nation-building, and protect, preserve and promote their rich and vibrant culture.
There have been many reported incidences wherein indigenous knowledge are being stolen by local and foreign entities. Such acts deprive our IPs of their cultural property, their identity which has been passed on from their ancestors. Last year, Senate Bill No. 379, or the proposed Traditional Property Rights of IPs Act, was filed to protect the traditional cultural heritage of IPs and support traditional artists and artisans in their contributions to their respective ethnic cultures and national heritage by ensuring that their rights are safeguarded. What happened to it? The bill sought to create a comprehensive cultural archive and inventory of all cultural properties of the different ethno-linguistic groups in the country.
There's another bill, the proposed Cultural Education Program Act, which will mandate the country's key educational agencies to collaborate and work with the National Commission for Culture and the Arts in formulating and implementing plans and programs that will integrate and mainstream Philippine arts and culture in the national education system, primarily through the institutionalization of Schools of Living Traditions (SLTs).
We already have existing SLTs, which teach the young population of IP groups the traditional arts, crafts, music and practices of their community. But we need to take a major leap in making sure the country's unique and diverse cultural heritage will flourish by mainstreaming indigenous knowledge systems, skills and practices through the institutionalization of SLTs model in the formal education system.
We should press for measures that will benefit our indigenous communities and give our IPs the respect, recognition and opportunities due them. We also urge our IPs to likewise continue to fight for their rights and to always protect our cultural heritage amid the challenges of modernization.