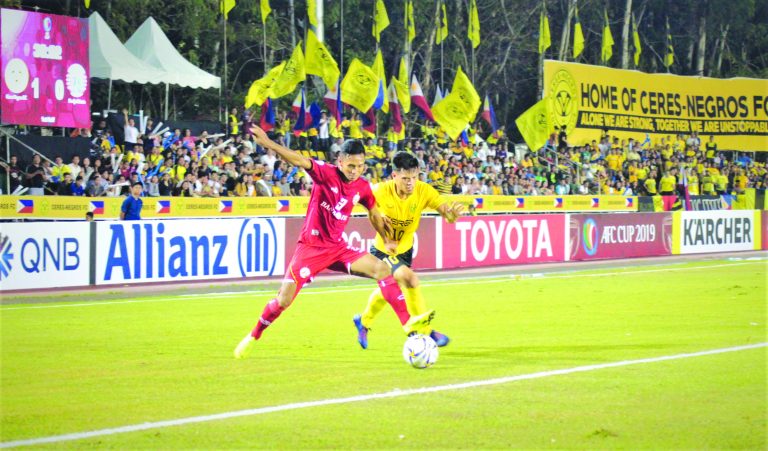 CERES-Negros FC maintained its unblemished slate in the 2019 AFC Cup after a 1-0 victory over Indonesia's Persija Jakarta on Wednesday night at the Panaad Park and Stadium in Bacolod City.
Bienvenido Marañon's ninth minute strike was more than enough for the Negros Occidental-based football team to keep its hold of the top spot in Group G with nine points.
Ceres-Negros made the perfect start to the match when Spaniard Marañon sent a header home from Martin Steuble's inch perfect cross just as the match is about to heat up.
Despite the advantage, Ceres-Negros maintained their aggressiveness in the first half with close chances to widen the lead but Mike Ott's attempt was foiled same with Marañon's shot.
Just before the halftime break, Persija Jakarta had a golden opportunity to level the score but Bambang Pamungkas somehow missed from close range after a perfect cross across goal from Rizki Ramdani Lestaluhu.
Ceres-Negros looked to repeat their early goal in the second half and came close to doubling their lead when Kevin Ingreso's left-footed try from the edge of the area hit the woodwork.
The Indonesians tried their best to equalize in the game with Rohit Chand attempting a header but it was easily saved by Ceres-Negros keeper Roland Müller. The Negrenses still tried to widen the advantage but to no avail.
Ceres-Negros will have a three week break before plunging back to AFC Cup action where they will travel to the Gelora Bung Karno Stadium in Jakarta to face Persija Jakarta./PN