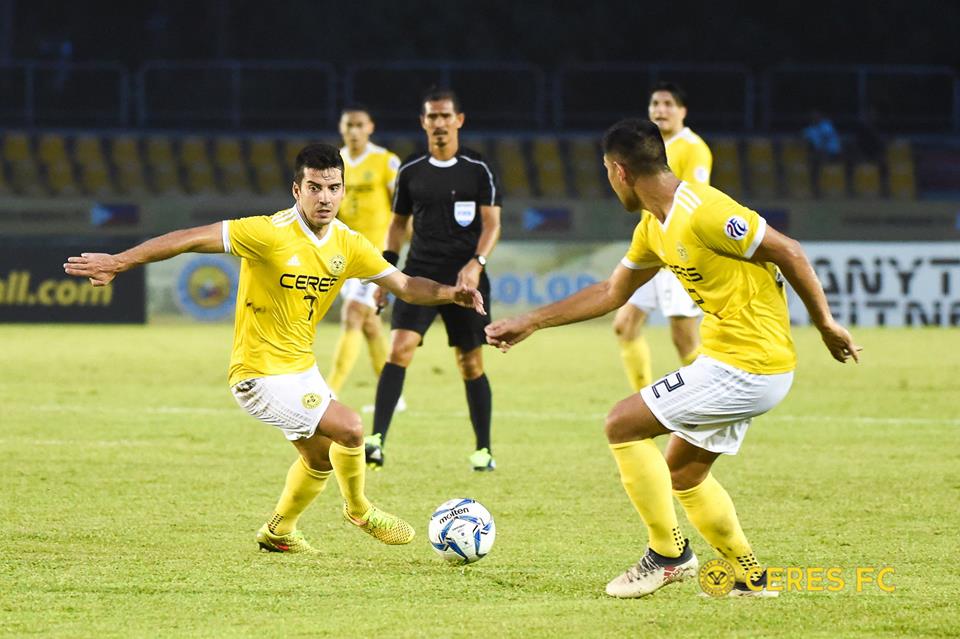 CERES Negros capped off its title run in the 2018 Philippines Football League with a 4-1 victory over Stallion Laguna at the Panaad Park and Stadium in Bacolod City.
Bienvenido Marañon fired two goals while Martin Steuble and Blake Powell added a conversion each for Ceres to end the conference with 60 points on 19 wins, three draws and three losses.
It was actually a double victory for the Busmen on Saturday night as the league awarded them a 3-0 default victory for their cancelled match with Global Cebu that was supposed to be held on Aug. 15 in Bacolod City.
Ceres was unable to connect with its shots early in the match until it finally broke the scoreless tie in the 32nd minute when Marañon floated a left footer from outside the box.
The Busmen upgraded the lead to 2-0 in the 49th minute when Steuble tapped in a missed shot by Powell. Stallion managed to pull one back a minute later courtesy of Nathaniel Alquiros.
Stallion had opportunities to level the count but Ceres' goalkeeper Roland Muller was there to deny the shots. Powell increased the Busmen's lead 3-1 in the 67th minute with an inside hit.
Ceres then put on the finishing touches with just a few minutes remaining – Marañon slotted in his second goal in the game from a nice feed by Michael Ott.
With the defeat, Stallion was denied a chance to tie with Davao San Miguel Aguilas on the third spot with 36 points on 12 victories, nine losses and three deadlocks./PN