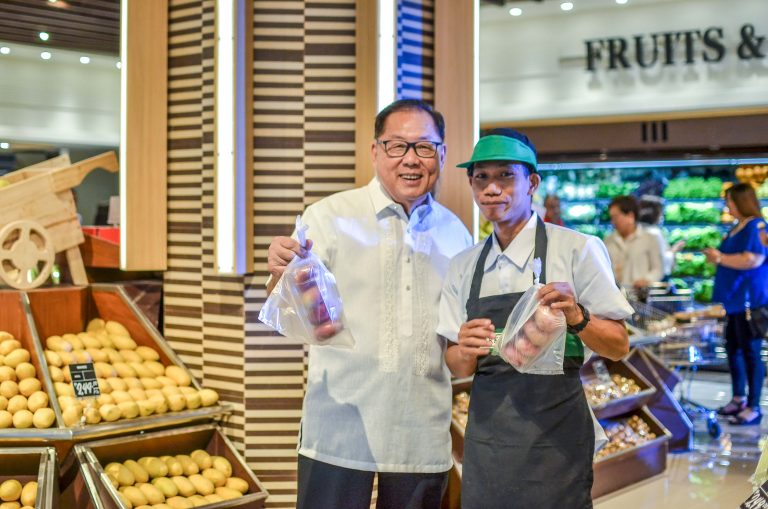 "WE are all about loving food," Ana Mamangun-Punongbayan, AVP for Marketing at Rustan's Supermarket, told Panay News. "So what better place for a new The Marketplace than here in Iloilo, where Ilonggos are known to be avid food lovers."
High-end grocer Rustan's finally opened The Marketplace Iloilo to much fanfare on Oct. 5, as the popular supermarket chain inaugurated its first-ever branch in the entire Western Visayas at the annex of the Festive Walk Mall – Megaworld's first and biggest full-scale lifestyle mall in the Visayas and Mindanao.
"We are excited to finally be bringing The Marketplace to Iloilo," said The Marketplace by Rustan's CEO Arlene Aldaba. "With our unbeatable assortment of quality products from here and all over the world, a wide range of fresh choices, our beautiful and spacious store, and impeccable customer service, grocery shopping will never be the same."
Iloilo shoppers will now have access to all the freshest and finest products The Marketplace has to offer, bringing not just refined offerings from around the country, but also the best international brands from around the world here, to this vibrant city.
"We are here to satisfy cravings," added Mamangun-Punongbayan. "The Marketplace is all about inspiring customers – from the way we design our stores, the way we lay out merchandise, even to choosing the products we put on our shelves – it's really about inspiring our customers and driving their passion for food."
Expect an elevated grocery shopping experience with The Marketplace by Rustan's stylish store and its carefully-curated merchandise, all perfectly suited to meet every customer's tastes. With The Marketplace Iloilo's aisles of the best top-tier brands and products, you're sure to find an extensive range of international and gourmet selections – from rare finds to daily essentials.
From premium cuts of meat and seafood freshly-plucked from the sea, to crisp produce, even imported goods to please your cravings, all under one roof at The Marketplace.
The Marketplace Iloilo even boasts of its own deli section where – aside from offering a mouth-watering selection of cheeses and cold cuts – also sells freshly-made gourmet dishes like quiches, cakes, and pasta dishes, with its own dedicated carving station.
WATCH: Join us as Panay News takes you on a virtual tour of the newest high-end grocery store in Iloilo City. Ilonggo shoppers now have access to all the freshest and finest products The Marketplace has to offer as top-tier grocer Rustan's brings its refined world-class offerings to the "City of Love."The Marketplace by Rustan's, located at the annex of the Festive Walk Mall inside the Iloilo Business Park, officially opened its doors to the Ilonggo public today. Shop for the most exquisite imported products and quality artisanal goods only at the Martketplace by Rustans, open 9 a.m. to 10 p.m. Gourmet everyday!

Posted by Panay News on Friday, October 5, 2018
Shop for the most exquisite imported products and quality artisanal goods only at the Martketplace by Rustans, open 9 a.m. to 10 p.m., gourmet every day!/PN