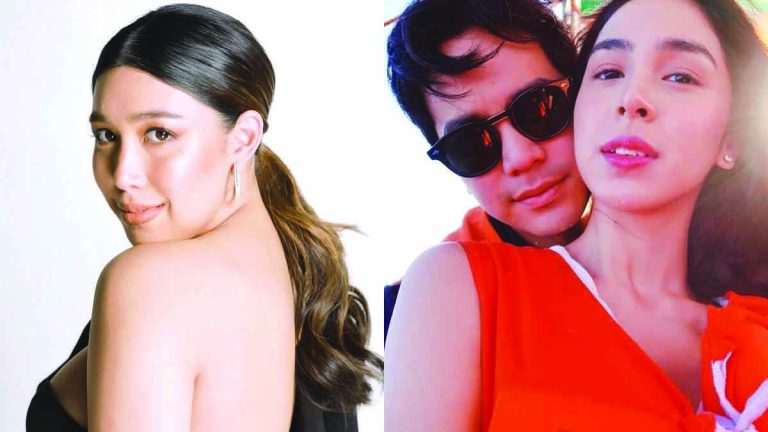 MANILA — After photos showing Joshua Garcia dining alone during a gathering of "ASAP" stars in California circulated online, Julia Barretto has become the target of criticism for supposedly leaving her former boyfriend and opting to join a different table — an accusation the actress has already denied.
"I did not leave Joshua alone," she tweeted on Monday. "He opted and requested to be left alone. He asked to eat and mingle alone. Why are all these fingers being pointed at me yet again? Bakit nanaman siya kawawa sa naging choice and decision niya, and bakit kasalanan ko pa 'to? Walang kumakawawa sa kanya."
Barretto went on to say that Garcia is "okay," and that "he enjoyed himself" during the party.
Barretto's statement roused further reactions online, both from long-time fans of her tandem with Garcia and critics of the actress.
Among them was from a follower who surmised that Garcia chose to stay away from Barretto because she had supposedly hurt him.
The user tweeted: "Sino ba naman kasing tao ang gusto pa makasama yung taong nanakit sakanya? kahit ako eh mas gusto ko na mag isa kesa makasama yung taong nanakit sakin at magpanggap na okay."
Apparently noticing the reply to Barretto, the actress' sister Dani Barretto addressed the follower directly in a tweet, saying: "Nakarinig ba kayo ng paninira galing sa kapatid ko the first time he cheated on her too? O, hindi mo alam 'yun, 'no? Marami kasi kayong hindi alam. Kaya manahimik na lang kayo."
Dani has since set her Twitter account to private, but screenshots of her response circulated on the social media platform on Tuesday. The user whom Dani replied to was among those who shared a screenshot of the exchange.
Dani did not specify the incident where Garcia supposedly "cheated."
A known rocky chapter of the former couple's relationship was the so-called "art shot" controversy in April 2018, when screenshots of Garcia privately messaging another woman on Instagram circulated online.
A crying Garcia apologized to Barretto in a televised interview. That was followed a week later by a joint interview, where they admitted fixing the relationship. They ultimately reconciled and appeared to be affectionate in photos on social media as well as in public.
While their relationship survived that episode, the events of the past few months seem to have bested the real-life bond of "JoshLia."
In June, Barretto hinted at the end of her relationship with Garcia, saying she was "in love with the peace she gained," and that she has let go of "toxic" people in her life.
In a joint interview weeks later, the "Block Z" co-stars confirmed changing their status to being "best friends." At the time, they also both denied that Anderson, whom Garcia regards as "kuya" has a factor in their decision.
In late July, when Anderson's ex-girlfriend Bea Alonzo hinted of infidelity in her relationship through a controversial Instagram post — while also visibly liking other posts alleging an affair between Barretto and Anderson — rumors linking the "Between Maybes" co-stars were revived.
Anderson has since cleared Barretto in his breakup with Alonzo, saying that "no one else" was a factor in the separation. (ABS-CBN News)