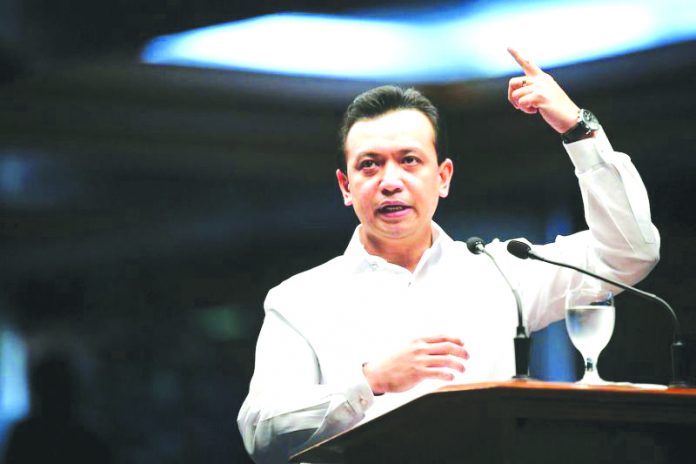 MANILA – A court in Makati City has upheld its earlier decision to issue an arrest warrant against Sen. Antonio Trillanes IV in connection with the 2007 Manila Peninsula siege.
Makati Regional Trial Court Branch 150 Judge Elmo Alameda dismissed the motion for reconsideration filed by Trillanes after the senator failed to raise new issues that would merit a reversal to his earlier verdict.
"The matters raised therein have been thoroughly and exhaustively passed upon by this court," Alameda said. "The court is not convinced that there is still a need to conduct a reception of evidence to rule on the factual issues on the case referring to the question on whether he applied for an amnesty or not."
Alameda added that Trillanes bears the burden of proving that he indeed filed his application for amnesty and admitted his guilt rather than the prosecution proving that he did not apply for amnesty and did not admit his guilt.
"Records will clearly show that Sen. Trillanes failed to establish the existence of the official copy of the amnesty application form which is the primary evidence required as proof of its filing with the DND Ad Hoc Amnesty Committee," the decision said.
It added: "Sen. Trillanes' inability to present the official original copy duly stamp marked received or even a photocopy of the application form bars him from proving the alleged contents thereof."
Alameda has earlier ruled that there was "factual and legal basis" for Proclamation No. 572 issued by President Rodrigo Duterte revoking the amnesty given to Trillanes by then president Benigno Aquino III.
The amnesty given by Aquino led to the dismissal of the rebellion case against Trillanes in 2011 but the verdict of Alameda's court has reopened the rebellion case against the senator.
Presidential Spokesman Salvador Panelo, meanwhile, hailed Alameda's verdict saying that the law is now "catching up" on Trillanes, a staunch critic of Duterte.
"While currently at liberty after posting bail, Trillanes must still come to grips with the criminal transgressions he committed as an ingrate and renegade military officer," Panelo said.
The Palace official added: "He may have succeeded in evading his accountability before the law but the law is now catching up on him. Senator Trillanes' comeuppance is finally knocking at his door, and he can only blame himself for the situation he embroiled himself in for he created his own quagmire."/PN