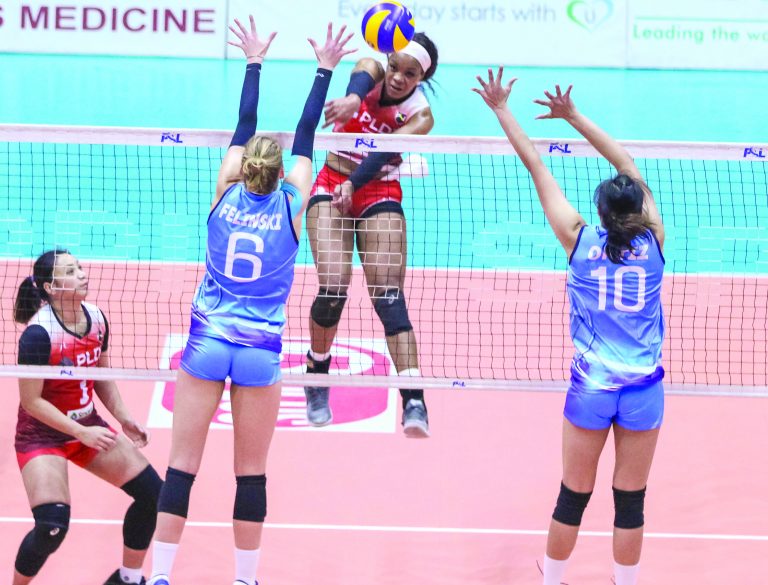 MANILA – PLDT Home Fibr Power Hitters continued its rise in the 2019 Philippine Superliga Grand Prix by beating Foton Tornadoes, 25-16, 27-25, 22-25, 26-24, on Thursday at San Juan Arena.
Grace Lazard top-scored with 25 points, on 16 attacks, three blocks, and six service aces, while Kendra Dahlke had 19 markers for the Power Hitters, which surged to 5-4 win-loss slate.
After failing to close out the match in third sets, the Power Hitters seemed headed to that direction in the fourth as they were up 24-20 but the Tornadoes came back with four straight points for a 24-all score.
Dahlke, however, made sure that the match will not be stretched to a fifth set as she scored back-to-back conversions, including a beautiful drop shot to seal the victory for the Power Hitters.
Despite starting the second round of elimination with two straight wins, Power Hitters head coach Roger Gorayeb was far from satisfied, especially in the fourth set when the Tornadoes gave them a serious scare.
"We were leading by four, 24-20, but the service error of Grace allowed them to come back," said Gorayeb. "I'm glad they were able to recover. It's good that they displayed composure and showed that they can recover from an ugly loss in the third set."
Milagros Collar had 24 points while Courtney Felinski added double-double 16 hits and 11 excellent receptions for the Tornadoes, which suffered its eighth consecutive loss in nine games./PN