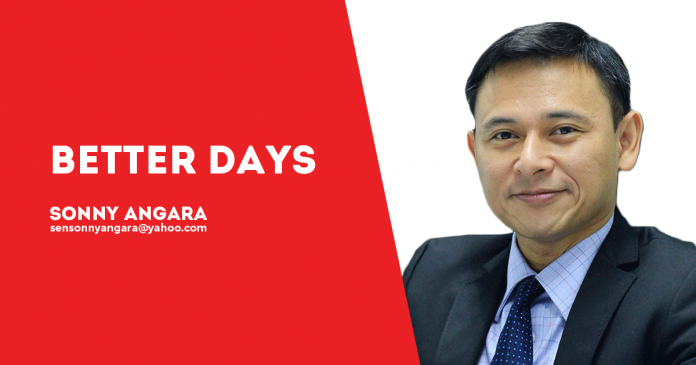 EVERY year on June 25 the world commemorates the Day of the Seafarer. First celebrated in 2011, it pays tribute to all seafarers around the world for their invaluable contribution to international trade and the world economy. It has been over a decade since we first filed the bill seeking to establish a Magna Carta of Seafarers. We first filed this measure in July of 2007 or during my second term as Congressman of my home province of Aurora. I have continued to file this bill in the Senate since my first term in 2013.
There is good reason why we continue to pursue this measure even though it has repeatedly been held up in the legislative mill. There are close to two million seafarers on board vessels around the world and about 490,000 of them are Filipinos. They are essential in the operations of these ships—without them, the entire maritime industry would be crippled. During the COVID-19 pandemic, around 150,000 of our seafarers lost their jobs when the operations of their employers were suspended. Many of them spent months stranded on board their ships, in foreign cities, and at local quarantine sites before they were allowed to go home to their families. In spite of a reported decrease in the number of Filipino seafarers, they still represent a fifth of the world's total.
The sacrifices that they make – being away from their families for long periods of time, being stuck at sea and sometimes experiencing violations against their labor rights, they undergo these hardships to provide for their families. With their remittances, they also contribute significantly to our economy. According to the Bangko Sentral ng Pilipinas, Filipino sea-based workers remitted $6.7 billion (P37.6B) in 2022. This was an increase from the 2020 level of $6.3 billion and $6.5 billion in 2021. They truly are our unsung heroes and we say this with sincerity, again, which is why we constantly push for the passage of this bill.
Before Congress adjourned its first regular session last week, Senator Raffy Tulfo, as Chairman of the Committee on Migrant Workers, sponsored the committee report on Senate Bill No. 2221, which is the 19th Congress' version of the Magna Carta of Seafarers and a consolidation of all 12 bills filed for this purpose, including our own SBN 640. We thank Sen. Tulfo for reporting out this bill in plenary so that we can start our interpellation and hopefully, pass this bill during the second regular session of Congress. The House of Representatives has already passed its own version of the bill in March of this year.
The Magna Carta of Seafarers complements Republic Act 8042 or the Overseas Filipinos and Migrant Workers Act of 1996 as it provides the necessary provisions for the protection and promotion of the welfare of our seafarers. It is in line with the Philippines' obligation as a signatory to the Maritime Labour Convention 2006 (MLC 2006). It grants our seafarers the right to a safe and secure workplace compliant with decent working standards, ensures their right to repatriation, establishes anti-harassment and anti-bullying policies including the creation of an on-board and onshore grievance mechanism, and supports their career advancement by providing them access to education and training at affordable and reasonable costs.
In pushing for this measure, we also want to avoid a situation similar to what happened in 2021 when the European Commission Directorate for Mobility and Transport (DG MOVE) informed the Philippines that recognition of Philippine seafarer certificates would be withdrawn unless serious measures were taken in complying with the International Standards on Training, Certification and Watchkeeping. Around 50,000 of our seafarers on board EU-flagged vessels were at risk of losing their jobs but thankfully this was addressed through the combined efforts of our government, including Congress, which promptly created a bicameral delegation, of which we were part of, to meet with our EU counterparts to find a solution to the impending crisis. On March 31, 2023, DG MOVE announced that it will continue to recognize the Philippine-issued certificates. The passage of the Magna Carta of Seafarers will help address all apprehensions regarding compliance with the international labor conventions entered into by the country.
There is reason for optimism that this measure will finally be approved during this Congress. President Ferdinand Marcos Jr. himself announced during the Philippine Maritime Industry Summit 2023 that "given that the Philippines is a maritime nation, I believe that it is time for us to make the maritime industry once again a top priority." This law is long overdue. We owe it to our seafarers to bring this to full fruition.
***
Sen. Sonny Angara has been in public service for 18 years—9 years as Representative of the Lone District of Aurora, and 9 as Senator. He has authored, co-authored, and sponsored more than 330 laws. He is currently serving his second term in the Senate.
***
Email: sensonnyangara@yahoo.com| Facebook, Twitter & Instagram: @sonnyangara/PN