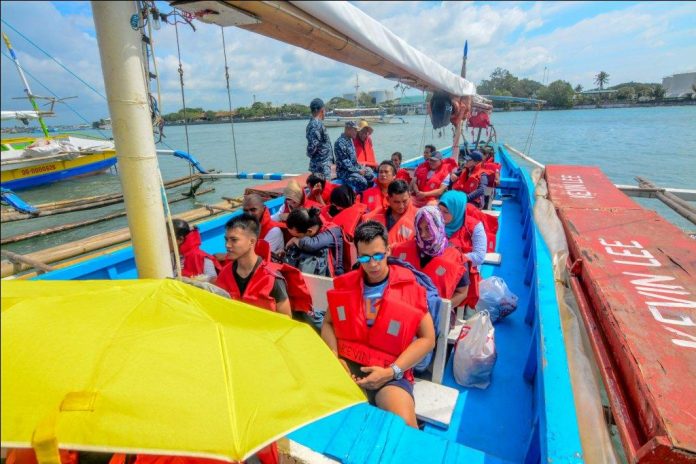 ILOILO City – A thousand colourful umbrellas would be made available by the Department of Tourism (DOT) Region 6 to motorboats that ferry passengers from this city to Guimaras and vice versa.
This is a temporary solution to the inconvenience spawned by a Maritime Industry Authority (MARINA) order that prohibits the use of tarpaulin covers (tolda) in motorboats, according to DOT Region 6 director Helen Catalbas.
Tourists and investors have been turned off by MARINA's order against the tolda. The slump in tourist arrivals is hitting rock bottom at -90 percent, revealed Catalbas.
The MARINA order is exposing motorboat passengers to the elements, especially the scorching heat of the sun, when crossing the Iloilo Strait. This compromises the health of the passengers, most especially the senior citizens, lamented the director.
But the name of DOT's umbrella project – "Guimaras Umbrella Festival" – did not sit well with some netizens. Why create a "festival" based on public inconvenience, they asked.
In a statement, Catalbas explained that the umbrella project is a product of a recent consultation with Guimaras' Gov. Samuel Gumarin, Cong. Lucille Nava, five town mayors of Guimaras, and private tourism industry stakeholders.
Consultation participants agreed there was a need to repackage Guimaras so the island province could again attract tourists.
MARINA issued its tolda order because wind-blown tarpaulin covers could capsize motorboats like what happened on Aug. 3 at the Iloilo Strait (three motorboats capsized; over 30 people drowned).
"Everyone was concerned about the negative publicity Guimaras has been getting which caused the downtrend of tourism to -90 percent," according to Catalbas. Thus, "any promotion and marketing strategy that will help Guimaras is welcome."
The regional director also clarified that DOT has no quarrel with MARINA and Philippine Coast Guard but she insisted that "some things have to be done to save the tourism industry of Guimaras."
The Guimaras Umbrella Festival will be launched on Nov. 9.
"This is not for those who do not want it. This is for those who need umbrellas during the boat trip," stressed Catalbas. "The noise created by a few will not damage the good intention of the project."
But Catalbas said she would consult again the various groups that were previously consulted.
"If they say stop, well, it's okay. I can transfer the project to Boracay, Capiz or Antique and call it the same as the Western Visayas region prepares for summer," said Catalbas./PN