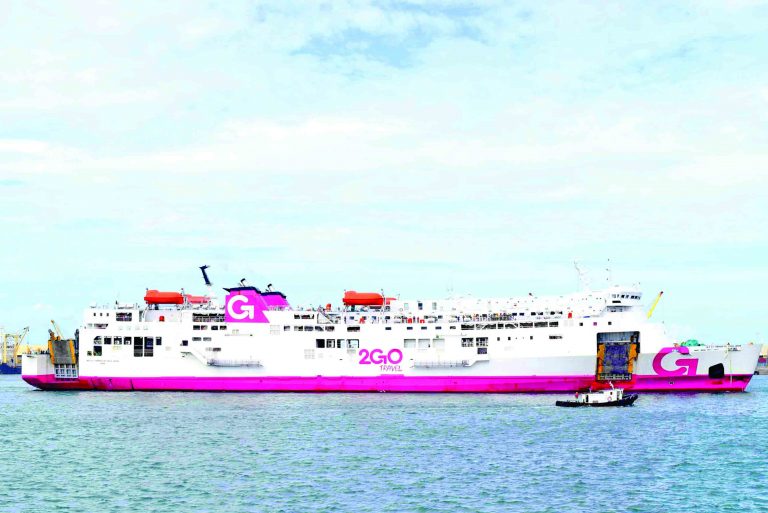 TO most Ilonggos, Cagayan De Oro probably remains a "hidden treasure" – very few aware of the myriad fresh experiences the city and its neighboring provinces has to offer.
It has taken no less than a five-day excursion with 2Go Travel to show me that in the "City of Golden Friendship" literally the adventure never ends!
With spots that could have any adrenaline junkie's heart racing – white water rafting Cagayan de Oro River's wild rapids, conquering Seven Seas Waterpark's dizzying mammoth Cyclone slide, or braving an 820-meter zipline, the longest in Asia, at Dahilayan Adventure Park – to gastronomical destinations that will have foodies asking for more – Camiguin's sought-after sweet pastel, getting your fill of fresh durian at the local market, and tasty tuna kinilaws and sinuglaws like no other – let Kagay-anons lead you to your next exciting escapade!
"2Go has played a significant role in promoting local tourism and linking the Filipino people through sea travel," Vivian Lapu-os, 2Go marketing and special projects head for VisMin, told Panay News. "We are glad to join this year's Higalaay Festival (celebrated every 28th of August to commemorate the feast day of St. Augustine) here in Cagayan De Oro, a destination that takes pride with its nature-centered recreational activities and warm hospitable people."
Promote Northern Mindanao Foundation president Elpidio Paras himself lauded the premier land/sea-travel provider, in an interview with Iloilo and Bacolod media at his Seven Seas Waterpark in Barra, Opol, Misamis Oriental.
"2Go has a vital part to play in spurring interest for destinations in Mindanao," said the entrepreneur Paras, who owns not just the adventure-seekers' waterpark in Opol, but also the Dahilayan Adventure Park in Manolo Fortich, Bukidnon (which boasts one of the longest ziplines in Asia) and operates Great White Water Rafting tours in Cagayan De Oro.
"More tourists and travelers need to see the countless experiences our locale has to offer. CDO's become popular for kayaking and white water rafting for decades now, but the region and our neighboring provinces have endless more activities and destinations more domestic and international tourists alike need to see and explore," Paras concluded. "2Go makes travel to Northern Mindanao even more accessible."
Always #Ready2GO
Cagayan De Oro stands as a major port city in Misamis Oriental, Northern Mindanao, a jump-off point to other popular destinations in southern Philippines – including idyllic island paradise Camiguin, the scenic plateau and plantations of Bukidnon, and the bustling metropolitan city of Davao – all the while also an exhilarating tourist destination in its own right.
2Go Travel links Western Visayas to Cagayan De Oro with its premium M/V St. Therese of the Child Jesus vessel, equipped with creature comfort amenities and spacious rooms, so much so that your vacation already begins with the journey. The ship plies the Manila-Bacolod-Iloilo-Cagayan De Oro route weekly, with a capacity of nearly 1,000 passengers.
The awe-inspiring M/V St. Therese of the Child Jesus is akin to a floating hotel, boasting homey and comfy Suite and State rooms with their own private rest rooms, living areas, and mini-bars. For bag-packers on a budget, 2Go also has no-frills Business, Tourist, and Mega Value / Super Value tickets that are even more affordable. Book them without fear of excess baggage charges, as 2Go allows personal luggage of up to 50 kilograms.
At 2Go Travel, your holiday starts – not at your destination – but onboard. Kill some time and get pampered at the vessel's beauty parlor the Trip & Trim Salon, or join the daily karaoke contest at Island Fiesta Resto, or simply savor horizon and sunset views at M/V St. Therese of the Child Jesus' viewing deck, perfect for an afternoon of lounging with some coffee and snacks.
Catered meals are included with your ticket purchase, served at the Horizon Café, with its picturesque vistas of the ocean, for premium clientele, and at the Island Fiesta Cafeteria for economy customers. For any other necessities, M/V St. Therese of the Child Jesus even has a 24/7 QuickMart convenience store at its lobby.
"2Go promises non-stop fun from the port of origin, onboard, until you reach your destination," promises the marketing executive Lapu-os.
2o Travel remains one of the largest, premier land and sea travel providers in the Philippines, boasting a combined history of over 150 years in the travel and maritime industry and born out of established brands Negros Navigation, Superferry, Cebu Ferries, and Supercat.
It works with over 1,200 outlets nationwide, catering to various ports in Luzon, Visayas, and Mindanao – combining a seamless travel experience, with breathtaking destinations, and the luxury of hotel accommodations, 2Go aims to redefine travel.
Stay tuned next week for our Cagayan De Oro travelogue with 2Go Travel! (To be continued/PN)