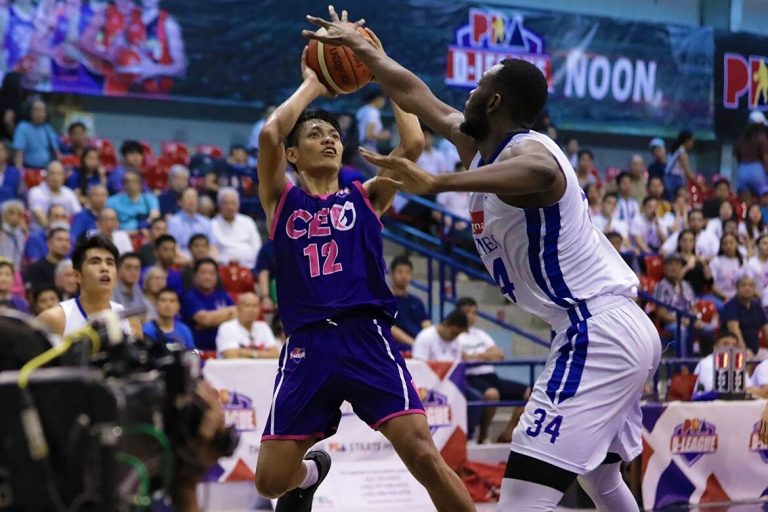 MANILA – Centro Escolar University Scorpions hang tough on defense in the endgame to pull off a 77-74 upset over Cignal-Ateneo Blue Eagles in Game 2 of the 2019 PBA D-League Finals on Tuesday night at the Ynares Sports Arena in Pasig City.
After seeing its 10-point edge vanished to 72-all on back-to-back triples by Blue Eagles' Samjosef Belangel, the Scorpions leaned on free throws by Rich Guinitaran, Jerome Santos and Ilonggo Franz Diaz to complete the stunner.
Not only did the Scorpions drained precious free throws, the Scorpions also thrived on defense by forcing Ilonggo Ferdinand "Thirdy" Ravena III to travel with Ateneo down 74-75 and forcing Belangel to miss on potential game-tying three.
Santos finished the match with double-double 28 points and 10 rebounds, while Maodo Malick Diouf added 23 markers and 16 boards for the Scorpions, which tied the best-of-five series at 1-1.
After a slow start, the Blue Eagles seemed on their way to breaking the game wide open after building a 38-22 edge but the Scorpions, behind Santos and Diouf, mounted a huge run in the third period to take a 53-52 lead.
The Scorpions maintained its momentum in the fourth quarter on conversions from Santos, Diouf and Diaz to build a 65-55 edge but the Blue Eagles rallied back behind Ravena and Belangel to tie the score at 72-all.
"I think we're able to redeem ourselves (in Game 2). We're able to show up in the championship game," said Scorpions head coach Derrick Pumaren. "I told my players to believe in themselves, that we can be in the same league in Ateneo."
Adrian Wong finished with 17 points, Angelo Kouame had double-double 14 points and 10 rebounds, while Negrense Belangel contributed 13 markers for the UAAP titlist Blue Eagles./PN