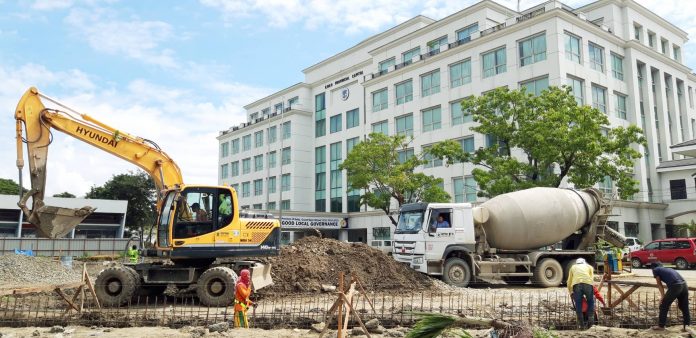 ILOILO City – Work on Package 2 of the multimillion-peso provincial capitol grounds redevelopment project had been slow.
As of Dec. 20, 2018 contractor Roprim Construction posted an "actual accomplishment of 10.95 percent versus the planned accomplishment of 38.02 percent", according to Provincial Engineer Gracianito Lucero.
The contractor incurred a negative slippage of 27.07 percent, lamented Lucero.
The project's Package 2 (landscaping and park development of capitol grounds) had a budget of P69,803,507.30.
According to Lucero, the contractor had "limited manpower and equipment."
On Dec. 21, 2018 the Office of the Governor sent Roprim Construction proprietor/manager Engineer Ronnie Primaylon a Notice to Terminate Contract.
"Pursuant to Section III.A.2.a Appendix 4 of Republic Act 9184 and Office Order No. 410, series of 2017 – Administrative Action on Contract with Negative Slippages in Accordance with the Revised Implementing Rules and Regulations of RA 9184, we shall now initiate the termination of the contract," read part of the notice.
Republic Act 9184 is the Government Procurement Reform Act.
The provincial government gave the contractor seven calendar days from the receipt of the notice to explain why its contract should not be terminated.
It was learned that the contractor received the notice only on Jan. 4.
Lucero, however, said that on the last week of December 2018 the contractor sought for a time extension.
Work on Package 2 started on May 8, 2018. Target date of completion is March 5, 2019.
The capitol grounds redevelopment project has four packages:
* construction of a multilevel parking area – P185 million
* landscaping and park development of capitol grounds – P69 million
* redevelopment of the area surrounding the Western Visayas Regional Museum – P52 million
* power station – P18 million
The ground redevelopment was designed by renowned Filipino architect Paolo Alcazaren./PN