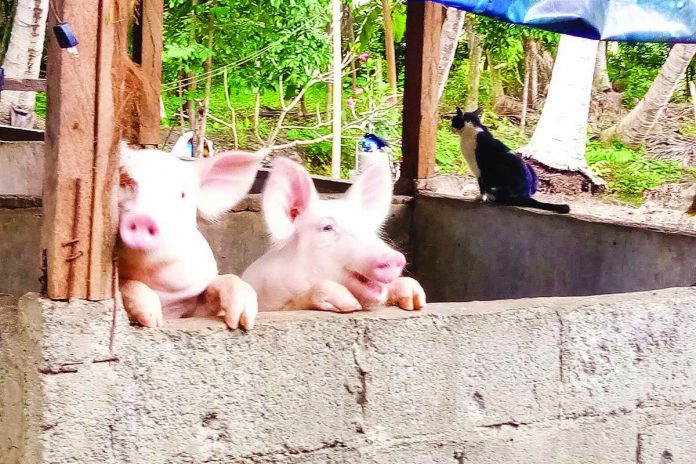 MANILA – In view of the reported presence of a swine disease in Bulacan and Rizal provinces, the Department of Agriculture (DA) has ordered the culling of all hogs -infected or not – within a one-kilometer radius of infected farms.
In a press briefing in Makati City on Wednesday, DA spokesperson Noel Reyes said the Bureau of Animal Industry (BAI) and the DA regional field offices were implementing the 1-7-10 protocol in managing, containing, and controlling the suspected disease or diseases.
This means that all pigs within the 2-km. radius of infected farms will be culled and that quarantine checkpoints have been set up in strategic locations to prevent the movement of all live pigs, pork, and pork-related products.
For swine farms within a 7-km. radius, Reyes said the BAI and concerned regional field offices would conduct surveillance procedures, test animals to determine the extent of the infection, and limit animal movement.
On the other hand, swine farms within a 10-km. radius will be required to submit a mandatory report on the disease.
The DA also prohibited swill feeding among hogs, especially among backyard raisers.
Swill feeding is the feeding of food scraps to pigs, a practice that has caused foot-and-mouth disease outbreaks overseas, including the catastrophic epidemic in the United Kingdom in 2001.
The practice of feeding hogs leftover food, or swill, poses a heightened risk of foot-and-mouth disease, or even African Swine Fever (ASF).
Three barangays in Rodriguez, Rizal have been placed under quarantine because of the possible presence of what the DA called as one of the "major economic swine diseases."
Affected backyard swine farmers said their pigs showed loss of appetite, recumbency, vomiting, skin hemorrhage, dark discoloration in the extremities, and sudden death.
Experts of the DA-BAI said several diseases, including the dreaded ASF, could be associated with the clinical signs. Thus, they said, further confirmation would be needed from a recognized foreign reference laboratory in Europe.
"We expect to receive the results at the earliest, in two weeks, and two months at the latest," Reyes said.
Meanwhile, the DA assured the public that no contaminated meat came from the infected farms.
"Walang karne na nakalabas from these infected areas," he said.
Reyes, however, urged consumers to remain vigilant when buying meat and processed meat products and to ensure these were duly inspected and stamped by the National Meat Inspection Service. (PNA)