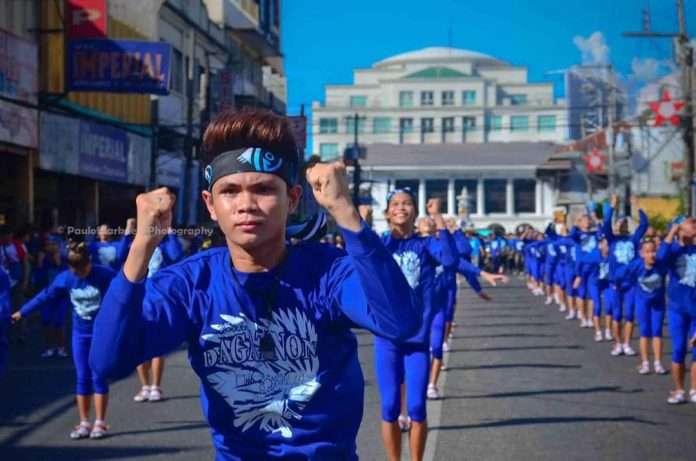 ILOILO City – For an hour on Dec. 14, this city would be rumbling with drums.
This Dinagyang Festival 2020 "Pamukaw" aims to kick-start the festive mood as Ilonggos prepare for the annual festivity next month.
"Pamukaw" is Hiligaynon for "wakeup call."
From 8 p.m. to 9 p.m. participating Dinagyang ati tribes competition contingents would gather at various public plazas and simultaneously play their drums and perhaps give a sneak peek of their Jan. 26 performance.
The venues are Arevalo plaza, Mandurriao plaza, Molo plaza, Jaro plaza, La Paz plaza, Plaza Libertad, Sunburst Park, and SM City Iloilo.
In previous years, the "Pamukaw" was a parade of the tribes. Not this time, according to the Iloilo Festivals Foundation, Inc. (IFFI) that the city government has tapped to organize the 2020 edition of Dinagyang.
In Arevalo plaza the tribe assigned is Molave; it's Familia Sagrada at Mandurriao plaza; Tribu Parianon at Molo plaza; Tribu Kanyao at Jaro plaza; Tribu Aninipay at La Paz plaza; Tribu Hamili and Tribu Sagasa at Plaza Libertad; Tribu Panaad at Sunburst Park; and Tribu Angola at SM City City.
Participants in the "Dagyang sa Calle" slated on Jan. 25 will also be joining the "Pamukaw".
Dinagyang is the Hiligaynon word for revelry or merrymaking. The festival is known for its participants' impressive choreography and striking costumes that reflect Ilonggo ingenuity, craftsmanship and artistry.
The highlight of the festival is on Jan. 26, 2020 – the tribes competition.
Dinagyang has been voted the "best tourism event" three times in a row – 2006, 2007 and 2008 – by the Association of Tourism Officers in the Philippines.
The IFFI has lined up the following Dinagyang 2020 activities:
* Iloilo Dinagyang Art Festival – Jan. 18 to 25
* Ilonggo Food Festival – Jan. 23 to 26
* Miss Iloilo 2020 – Jan. 24
* Tambor Trumpa Martsa Musika – Jan. 24
* fluvial and solemn foot procession – Jan. 24
* Floats Parade of Lights – Jan. 24
* fireworks display – Jan. 24
* Dinagyang sa Calle Real – Jan. 25
* Festive Parade Sponsors Mardi Gras – Jan. 25
* religious sadsad – Jan. 25
* Dinagyang 360° – Jan. 26
Dinagyang Festival started in 1967. A replica of the Santo Niño de Cebu was brought from Cebu to the San Jose de Placer Church. The image was enthusiastically received by the Ilonggos who danced on the streets of Iloilo City./PN