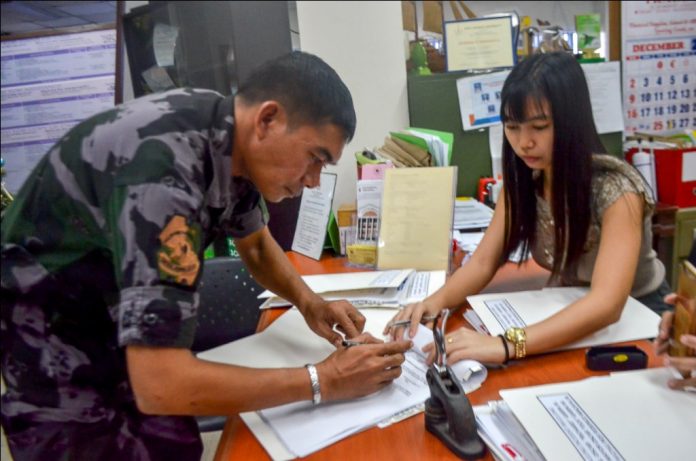 BY ADRIAN STEWART CO and RUBY SILUBRICO
MANILA – "So disappointed." This was how Secretary Eduardo Año of the Department of Interior and Local Government (DILG) described President Rodrigo Duterte's reaction on the mauling of a police officer in Guimbal, Iloilo. The cop has filed criminal and administrative charges against father and son Mayor Oscar "Oca" Garin Sr. and Cong. Oscar "Richard" Garin Jr.
Shortly after the President ordered yesterday morning the filing of appropriate charges against the Garins, Police Officer 3 Federico Macaya Jr. filed his complaint before the Office of the Ombudsman in Iloilo City with the help of the Iloilo Police Provincial Office.
The charges were for assault upon a person in authority, grave coercion, grave threats, physical injuries, slander by deeds, serious illegal detention, alarm and scandal, grave misconduct, conduct unbecoming of public officials, oppression, abuse of authority, and conduct prejudicial to the best interest of the public.
Speaking to journalists in Daraga, Albay, the President said he would "ask General Año to take a look (and) investigate. But I am not urging him, I am ordering him to file a case against the two."
"Kung may kasalanan man ang pulis, it's not a reason, especially a police officer, na bugbugin mo. I will look into it," said the President. "They will have to file the case. Direct assault."
Article 148 of the Revised Penal Code penalizes anyone charged with direct assault against a person in authority or any of his agents with prision correccional in its medium and maximum periods and a fine of not less than P1,000.
Prision correccional suspends an official from public office for six months to six years and prohibits him from practicing a profession or calling.
According to Macaya, he was handcuffed, manhandled and threatened at gunpoint on Dec. 26 outside the municipal hall of Guimbal, Iloilo.
"The President himself was so disappointed," said Año.
The DILG chief vowed to ensure that the President's order "will be complied with immediately."
According to Duterte while in Albay yesterday, "Sinabi ko 'yan early on na huwag ninyong gawain 'yung (I said it early on not to commit) terror – political terrorism. Hindi maganda. Tsaka wala ng demokrasya, papatayin mo (It's not good. You're killing democracy)…I don't know who he is. He could be a mayor, he could be a governor, he could be just plain galit (mad). But that is not the way how to do it."
Año said he may order the removal of Mayor Garin's deputation authority over the Guimbal police once the investigation results were out.
Under Section 61 of the Local Government Code of 1991, administrative charges may also be filed at the Sangguniang Panlalawigan for abuse of authority, oppression, and misconduct in office.
"We will make sure that justice is served and will run after local chief executives who abuse their authority," according to Año, speaking generally.
In the case of Congressman Garin, Año said, the DILG may also recommend to the House of Representatives to impose sanctions on the solon.
The congressman already issued a statement apologizing to the Philippine National Police. According to him, he was taking "full responsibility" for his actions but stressed these were not directed against the PNP as an institution or against its officers and personnel but toward "one single personnel" that, in his view, "committed a great disservice to the people of Guimbal."
Garin said he got irked with Macaya after a victim in a Dec. 22 commotion at the Guimbal public plaza told them that the policeman persuaded him not to file the case against an attacker and that the cop forced him to sign an affidavit expressing disinterest in filing charges.
"For me, what the policeman did was a betrayal of public thrust kag klaro nga pag abusar sang iya posisyon," according to Garin.
What Macaya did, according to the congressman, was contrary to the PNP policy of not settling the parties in a criminal case.
Macaya belied the congressman's assertions. He said the victim was the one who refused to file charges because he did not want to worry his parents who were overseas contract workers. (With a report from the Philippine News Agency/PN)