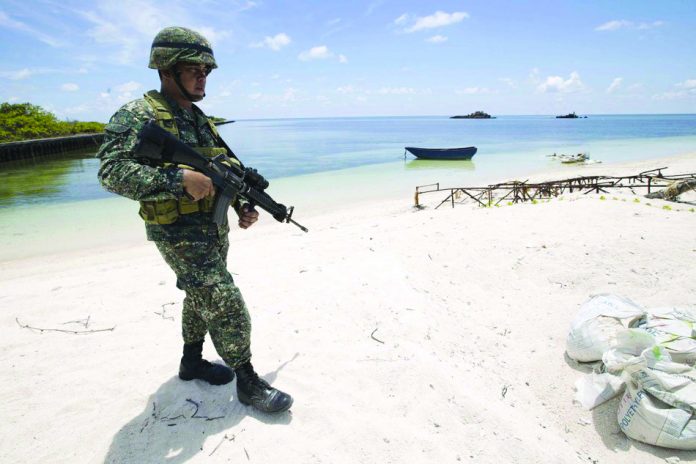 MANILA – Malacañang said President Rodrigo Duterte "never shelved" the Philippines' arbitration case victory against China in the West Philippines Sea.
Presidential Spokesman Salvador Panelo on Monday said the arbitral ruling issued by The Hague in 2016 was "irreversible" but "unenforceable."
"In the first place, this administration never shelved the arbitral ruling. It only remains unenforceable because no foreign force seems persuaded to help us enforce it, and neither do we have the capability of enforcing it alone by force, not to mention the fact that performing armed acts of enforcement could only trigger a bloody war that could cost the lives of our countrymen and destruction of properties in our land," Panelo said.
"We reiterate our unchanged stance – the arbitral ruling is irreversible, the same being based on the United Nations convention on the law of the sea and international law accepted by most, if not by all, nations. It has the stamp of permanence," he added.
Panelo's statement came after former Department of Foreign Affairs secretary Albert Del Rosario issued a statement urging Duterte to "unshelve" Manila's arbitration win.
The palace official said "Mr. Del Rosario, being responsible for the loss of the country's possession of the Scarborough Shoal during his stint as Foreign Affairs secretary by naively causing the withdrawal of our armed ship in the area of conflict, certainly cannot put forward his pretended patriotism and feigned righteousness as if he has not contributed vastly to the unwelcome situation we are presently in."
The Hague recognized the Philippines' sovereign rights in its 200-nautical mile exclusive economic zone in the West Philippine Sea in July 2016.
However, China refused to recognize the ruling and has built artificial islands, prohibited Filipinos from fishing, and interfered in petroleum exploration in the disputed territory./PN