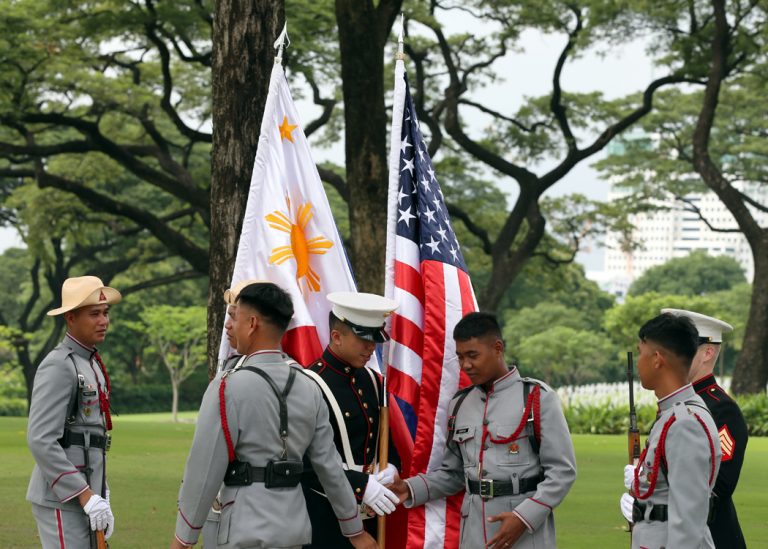 MANILA – Filipino and American veterans, together with military officials gathered Sunday at the Manila American Cemetery and Memorial in Taguig City to mark Veterans Day, which coincided with the 100th anniversary of the end of World War I.
Commanding General of the US Army Pacific General Robert Brown in his speech said sacrifices of the thousands of soldiers who fought and died together will never be forgotten.
Brown said a strong bond will always remain between the US and the Philippines.
Armed Forces of the Philippines Chief of Staff General Carlito Galvez said the courage and bravery of the soldiers will always remind Filipinos the value of the nation's freedom.
Galvez urged each one to continue to fight for the democracy and integrity of the country's national territory.
US Ambassador Sung Kim, meanwhile, said today is also a day of mourning for all Filipinos and Americans who fought shoulder to shoulder during the Bataan Death March.
Kim also honored former President Fidel V. Ramos, saying his life is an example of those who live to completely serve the nation.
Attendees also observed a moment of silence to commemorate the time 11th hour of the 11th day of the 11th month of 1918, the day World War I formally ended.
The cemetery contains the remains of more than 17,000 Filipinos and Americans who died in the war. More than 36,000 names of those missing are also inscribed in the hemicycle walls of the cemetery. (ABS-CBN News)