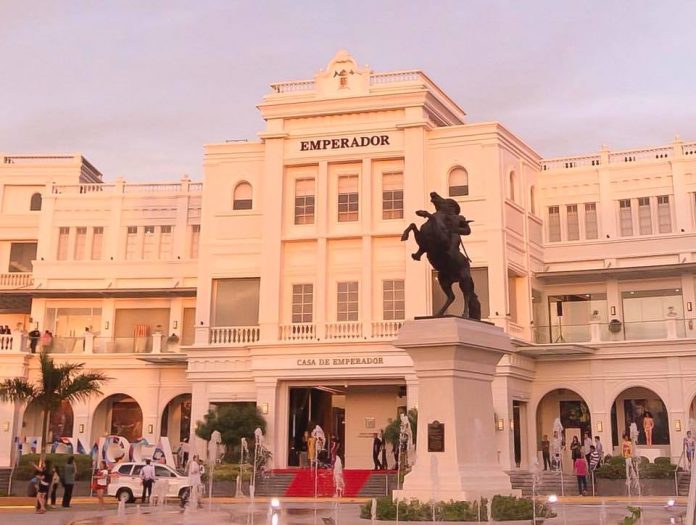 MEGAWORLD'S pivotal move to develop one of its largest townships in Iloilo City has led to unmistakable and palpable change in this emerging metropolis.
Left a sleepy site after the construction of the Iloilo International Airport in Cabatuan, the former runway strip has been revitalized into a vibrant hub of activity – reinvented as the city's new central business district and a premier lifestyle and leisure destination.
The sprawling 72-hectare Iloilo Business Park (IBP) is fast becoming a flash-point heralding rapid growth in Iloilo City – instrumental in boosting the locale's thriving BPO (business process outsourcing) sector, bolstering the city's campaign to be a top MICE (meetings, incentives, conventions and exhibitions) destination, and bringing Ilonggos the promise of an ideal "Live-Work-Play" lifestyle.
Every corner of the township radiates with all the growth and potential Megaworld has to offer, while showcasing how the real estate giant is ensuring Ilonggos to get to live their best life at Iloilo Business Park.
A FESTIVE LIFESTYLE
Not only does IBP host a slew of top-tier residential condominiums, it is also the home of the 1.1-kilometer Festive Walk Parade strip and the much-awaited P2.2-billion Festive Walk Mall – treating Ilonggos to new dining options and an unparalleled retail experience.
The longest commercial strip in the city, Festive Walk Parade, is the newest go-to place for delectable Ilonggo eats. Here locals and tourists alike can indulge in a variety of gastronomic choices, at home-grown restaurants such as Tinukib, Biscocho Haus and Griller's Oyster House, among others. For the more refined diners, there's Richmonde Hotel Iloilo's The Granary, Cable Car, DoVa Brunch Cafe, and Farm to Table.
Meanwhile, Festive Walk Mall, Megaworld's first full-scale lifestyle mall in the Visayas, will have three levels of world-class shopping, dining, entertainment, leisure, and wellness offerings. It will also be anchored by its own supermarket, department store, home essentials store, toy store and a food hall, when it opens later this year with seven state-of-the-art cinemas.
Festive Walk Mall is set to be linked to the Festive Walk Parade via elevated walkways and bridges, allowing shoppers to explore the entire retail complex seamlessly and with ease.
With everything within reach, IBP is promptly becoming the dream address in Iloilo City – building thematic residential towers to put Ilonggos at the center of the township's action.
Among these residential condominiums is The Palladium, Megaworld's tallest residential condominium in Western Visayas and the fifth residential tower to rise in the township. Named after one of the earth's rarest precious elements, The Palladium was envisioned and built as a stylish urban oasis with four of its own multi-level sky gardens, where residents can relax and enjoy serene moments with nature while atop a skyscraper.
SMART BUSINESS PLAY
The Iloilo Business Park has also proven itself crucial in strengthening Iloilo's booming BPO industry, and cementing the city as one of the country's premiere MICE hubs on-the-rise.
While Manila is seeing a gradual slowdown in investments from outsourcing firms, Iloilo City remains poised for further growth and development in the sector – as more companies look to the provinces for office space and manpower, reflecting the industry's move to the less congested countryside.
The IBP township is envisioned to become the largest IT (information technology) Park in Western Visayas – expected to open more than 30,000 jobs with developments in the next 10 years. Megaworld is spending P5 billion to build ten office towers in the Iloilo Business Park by 2021, paving the way for a new BPO boom in the city.
IBP is also instrumental in furthering Iloilo City's campaign for more MICE business, with international hotel brand Courtyard by Marriott Iloilo – set to open this May – betting on the township. The very first Courtyard hotel in the Philippines, Courtyard by Marriott Iloilo is owned by the world's largest hotel company with more than 5,700 properties in over 110 countries.
A lot of the city's growth in the MICE industry can be attributed to the establishment of the Iloilo Convention Center inside the IBP, with its 3,700-seat capacity main hall on the ground floor and 500-seat function rooms on the second floor – just a stone's throw away from both Courtyard by Marriott Iloilo and Richmonde Hotel Iloilo.
CULTIVATING COMMUNITIES
"Iloilo Business Park is one of our flagship townships in the Visayas-Mindanao area. But we're not here to just build buildings, construct structures, we [also hope to help] preserve some bits of culture, tradition, and heritage of the city of Iloilo," Jennifer Palmares-Fong, vice-president for sales and marketing – Iloilo Business Park, Megaworld told reporters during an event earlier this year, highlighting Megaworld's commitment to give back to the Ilonggo community.
"And that is the vision of our chairman Dr. Andrew L. Tan," she added.
Contributing to the city's flourishing art scene, the Iloilo Museum of Contemporary Art (ILOMOCA) was launched to much fanfare on March 18 at Festive Walk's Casa Emperador. ILOMOCA is the first ever contemporary art museum in the Visayas and Mindanao, housed at the art nouveau and art deco design-inspired Casa Emperador – its ornate façade a fitting homage to Iloilo's own architectural heritage.
A bronze statue of Ilonggo hero General Martin Delgado stands in front of Casa Emperador. The detailed monument by respected Spanish artist Gines Serran honors the heroism and bravery of the martyr, while paying tribute to Iloilo's rich history.
Iloilo Business Park is also committed to be a great venue to promote the use of bikes and encourage a healthy lifestyle in Iloilo. The township offers more than 300 kilometers of wide and well-paved bike lanes for bikers, with the bamboo bike / "BamBike" renting program – first popularized as an alternaive mode of transport to tour the historical walled-city of Intramuros in Manila – launched at IBP early last year.
Every year, the township, in partnership with Iloilo City government, serves as the official home of the biggest biking event in Western Visayas, the Iloilo Bike Festival, which is participated by thousands of bike enthusiasts from around the country.
Just this past 2018 Dinagyang Festival, IBP also joined the festivities, the inaugural Parade of Lights – with its illuminated floats and dynamic drum beats – culminating at Megaworld Boulevard. Also held inside the Iloilo Business Park township were the Viva Music Festival, the Dinagyang Auto Show, and the Festive Walk Parade Food Festival.
Megaworld and Iloilo Business Park have indelibly influenced and changed the City of Love's outlook on lifestyle and business. It's "Live-Work-Play" brand of township tapping into the Ilonggo's innate love for food and leisure, but also well-suited to the city and its people's direction of seeking growth and development.
Megaworld understands what Ilonggos want and they're here to ensure every Ilonggo gets to live their best life at IBP. Come and live, work, and play hard at Iloilo Business Park!/PN