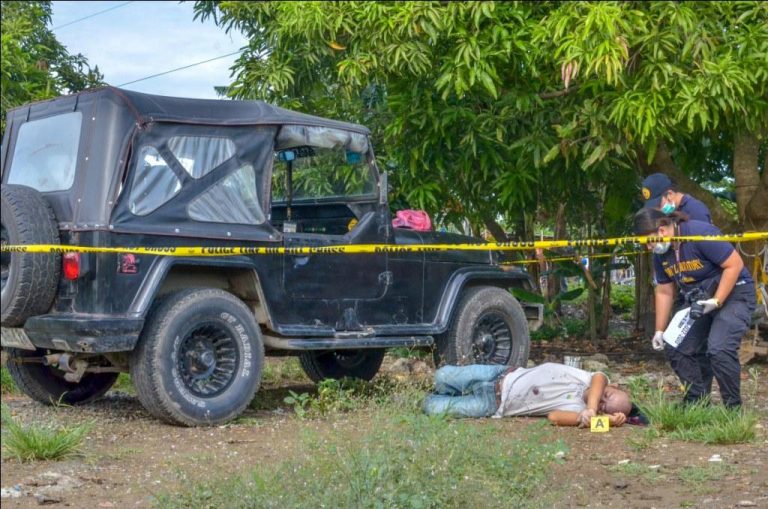 ILOILO City – A provincial survey aide of the Department of Agrarian Reform (DAR) was shot to death in Barangay Tagbak, Jaro district. He was attacked by a lone motorcycle-driving gunman.
The 51-year-old Allan Salario of Barangay Calmay, Janiuay, Iloilo died of gunshot wounds on the head and back yesterday at around 6 a.m. at Metropolis Subdivision where he was temporarily residing.
According to Police Captain Eduardo Siacon Jr., Jaro police chief, Salario was preparing his vehicle, an owner-type jeep, when shot thrice.
The assailant was wearing a black helmet, black jacket and a pair of shorts, witnesses told responding policemen.
According to Salario's superior at DAR-Iloilo Engineer Roy Napud, the victim was supposed to go to the 5th District of Iloilo yesterday to check a DAR project in Estancia town.
He described Salario as a hardworking employee with no known office enemies.
Siacon said the crime was likely not work-related. He also said Salario was not in the Jaro police station's list of suspected drug personalities.
Salario's sister Catalina told the police he had a misunderstanding with someone last year and this led to threats.
On Wednesday night, June 5, during drinking binge with friends, said Siacon, Salario also told friends that someone was threatening him but did not identify this person.
"We hope more witnesses would come to us and give information," said Siacon.
WATCH: Lalaki gintiro sang Riding in Tandem sa Barangay Tagbak, Jaro, Iloilo City.

Posted by Panay News on Wednesday, June 5, 2019
ANOTHER COLD CASE?
It is feared that Salario's case may remain unsolved just like the string of previous shootings in this city that involved motorcycle-riding assassins.
When Senior Superintendent Martin Defensor took over the directorship of the Iloilo City Police Office (ICPO) on Sept. 12, 2018 he vowed to solve killings involving riding-in-tandem assassins, and prevent more of such incidents from happening.
In March this year, six months into his directorship, five such incidents took place – all unsolved.
Four other cases that happened just before he became the ICPO director also remain unsolved.
The five unsolved riding-in-tandem killings (as of March) that happened under Defensor's watch as ICPO director were the following:
* Oct. 5, 2018 – Neil Resma, 38, of Barangay Bakhaw, Mandurriao district was shot in Barangay Calubihan, Jaro district
* Nov. 7, 2018 – Marvin Vasquez, 34, of Zone 3, Barangay Bakhaw, Mandurriao was shot in Barangay Taft North, Mandurriao
* Nov. 19, 2018 – Retired Senior Police Officer II Rolando Alag was shot in Barangay Villa Anita, City Proper while driving his van
* Nov. 24, 2018 – Nestor Piagola Jr., 33, of Barangay Zamora-Melliza, Iloilo City was shot on Rima-Rizal Street, City Proper
* March 2, 2019 – Lhuil Clemente, 40, of Barangay East Baluarte, Molo district was shot on Mabini Street, City Proper
Defensor acknowledged the ICPO's failure to solve these murder cases. His men were having a hard time, he said.
"All the assassins covered their faces to hide their identities. Also, no witnesses have surfaced," said Defensor.
He appealed for public help.
Meanwhile, the four cases that happened during the term of Defensor's predecessor, Senior Superintendent Henry Biñas, and still unsolved as of this writing were the following:
* July 13, 2018 – Ranny Bibanco, 33, of Trance Street, Barangay 2, Tigbauan, Iloilo was shot at the Iloilo Terminal Market
* Sept. 7, 2018 – Don Azucena, 39, of Barangay Calumpang, Molo was shot outside his house
* Sept. 7, 2018 – Rolando Puda, 41, of Barangay Ingore, La Paz district was shot near his house
* Sept. 11, 2018 – Gerardo Mamarion, 25, of Barangay Tacas, Jaro was shot in Zone 4, Barangay Ungka, Jaro
Unsolved killings could reflect badly on the city's peace and order situation, said Defensor during the ICPO change of command some eight months ago./PN