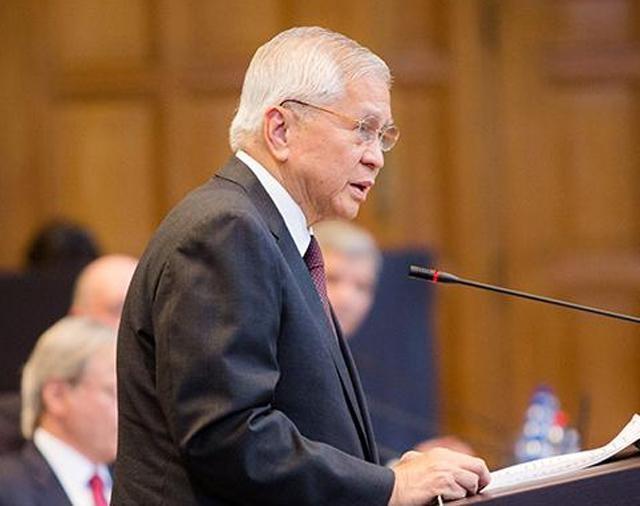 MANILA – After close to six hours of questioning, Hong Kong rejected the entry of former Department of Foreign Affairs (DFA) secretary Albert del Rosario on Friday.
Del Rosario, who led the country's winning arbitration case against China, said Hong Kong denied his entry.
"After holding me for six hours, they are denying entry. That means that the diplomatic passport (I am holding) is not being honored and they refused to give the reason why," he said.
Del Rosario was held at the Hong Kong International Airport upon his arrival around 7:40 a.m. yesterday. After rejecting his entry, the former DFA official is on his way back to Manila and is expected to arrive at 4:25 p.m.
Del Rosario added he felt he was harassed with the way the Hong Kong airport officials questioned him.
"It would seem that way. Given the absence of information that I feel is necessary to hold anyone, I think you would come to that conclusion," del Rosario said. "There is no rational response as to why I've been kept waiting."
He said he was assisted by Manila's consulate in Hong Kong and DFA secretary Teodoro Locsin Jr. assured him that his ordeal will be "expeditiously handled."
Del Rosario, a non-executive director of Hong Kong's First Pacific, was traveling to the Chinese special administrative region for a shareholders meeting, said his lawyer, Anne Marie Corominas.
Meanwhile, former Ombudsman Conchita Carpio-Morales also suffered the same fate last month when she joined her family in a vacation in Hong Kong.
Del Rosario and Carpio-Morales filed a complaint against Chinese President Xi Jinping and two other top Chinese officials before the Office of the Prosecutor of the International Criminal Court for China's infractions in the West Philippine Sea.
Morales said that barring del Rosario from entering Hong Kong "confirms the detestable retaliatory act of China as it confirms that Hong Kong has shed off or been cowed into giving up its autonomy."/PN