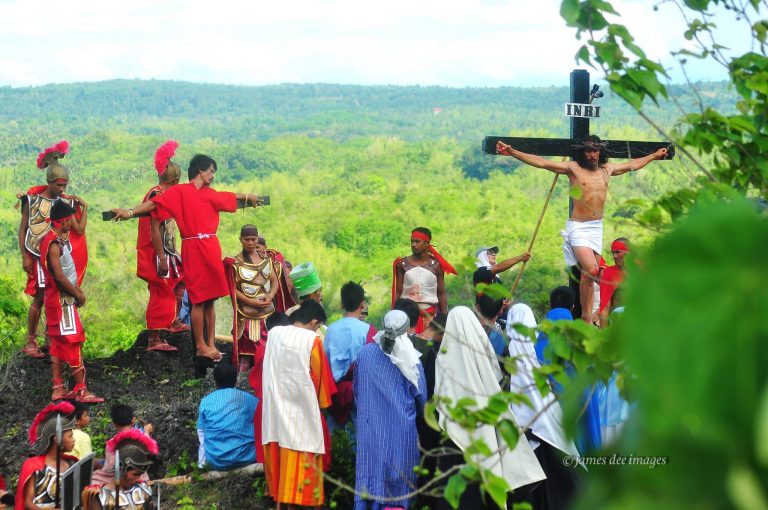 ILOILO – Religious tourism is a type of tourism motivated by religious reasons. It can also be referred to as faith tourism or spiritual tourism.
People go on religious holidays to confirm, deepen or reflect upon their faith. They would like to connect personally to a holy place, better understand and appreciate a religion, feel free from worry, and find peace and meaning in life.
This Holy Week, the Provincial Tourism Office (PTO) is promoting this type of tourism. Iloilo has a lot to offer, according to PTO chief Gilbert Marin.
Holy Week is one of the "biggest contributors" of tourist arrivals in the province, he revealed.
"Sa Good Friday, we have the annual 'Pagtaltal', a reenactment of the life and passion of Jesus Christ dira sa Barotac Viejo. Masugod ina sa covered gym kag malibot sa mga dalanon sang banwa tubtob nga mabalik sa simbahan," said Marin.
Barotac Viejo is 57 kilometers north of Iloilo City.
The municipality of Banate also has its own version of the "Pagtaltal."
"Gasugod sa likod sang Banate Elementary School padulong sa munisipyo kag mabalik sa simbahan," said Marin.
The actors in Banate's passion play are its residents and local officials. They wear fitting period costumes.
Banate, a coastal municipality, is 51 kilometers north of Iloilo City.
Aside from these open-air passion plays, Marin said people are also encouraged to experience the Via Crucis (Way of the Cross) pilgrimage offered by other towns such as Alimodian which boasts of its Agony Hill.
Alimodian is mainly an agricultural municipality in central Iloilo. It has some rugged terrains as well as ample flat lands.
In Concepcion town, 97 kilometers north of Iloilo City, the island barangay of Tambaliza also has its version of the Via Crucis. But aside from this religious pilgrimage, visitors would also be treated to an amazing sight – the Mount Pan de Azucar, named such because of its tall conical shape resembling an old sugarloaf of the 19th century, and the barangay's pristine beaches.
Then there's the Garin Farm Heaven in San Joaquin town, said Marin. The mountain resort also has Stations of the Cross.
So, too, is Bucari, according to the PTO head. It is an area with mountainous terrain situated in the highlands of Leon and Alimodian towns.
The Bucari area is composed of Bucari, a barangay in Leon and neighboring barangays of which 14 are in Leon and seven in Alimodian called the "Seven Cities."
Bucari is known as the "Summer Capital of Iloilo" and declared a special economic zone for tourism and ecological enterprise due to its cool climate, topography, highland attractions and scenery.
PTO also encourages people to witness if not participate in Holy Week "good practices" on Maundy Thursday and Good Friday such as the "washing of the feet of Jesus' 12 apostles" in Miag-ao, and processions in Cabatuan, Santa Barbara and Janiuay that feature grandiosely-dressed religious icons on floats./PN