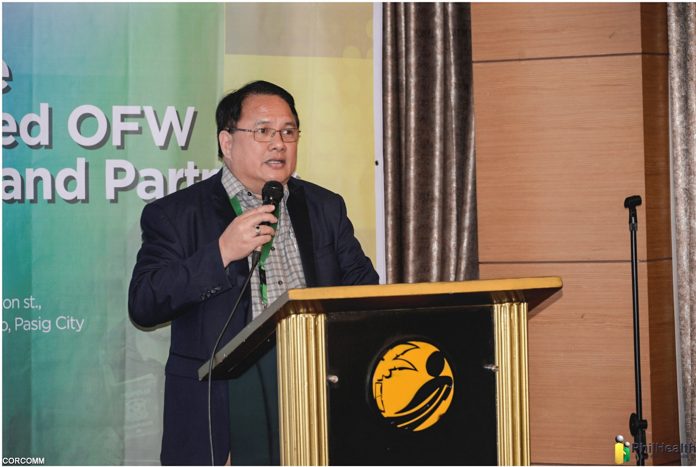 "NO mafia can survive in the the Philippine Health Insurance Corporation (PhilHealth) under the watch of Philippine President Rodrigo Duterte." Thus declared PhilHealth acting president and CEO Dr. Roy Ferrer, laughing off the imagined fears of a former PhilHealth staff working with the past administration.
Dr. Ferrer scored a certain Minguita Padilla, erstwhile head executive staff of a former Health Secretary under the government of former President Benigno Simeon C. Aquino. "The loser's mind and defeatist attitude of Ms. Padilla cite 'a culture of fear' in PhilHealth, but that was the PhilHealth of the past," Ferrer pointed out, "and such fear and trembling no longer exist in the present PhilHealth and under the strong government of President Duterte.
In a fast-breaking development, President Duterte was quoted by a television network saying, "I do not have the slightest doubt on the integrity and honesty of PhilHealth President Roy Ferrer," in the midst of this controversy particularly related to the wrongdoing of a health center that had abused and misused PhilHealth benefits.
Mr. Duterte thenceforth ordered the arrest of the said medical facility which used deception and misrepresentation to enrich themselves.
Ms. Padilla, who served a former Health Secretary (who figured prominently in the Dengvaxia mess), harks back to a weak-kneed and feeble government before the robust Presidency of my Boss, Rody Duterte," Ferrer said. "So when Ms Padilla spoke about the impotence and helplessness of the earlier PhilHealth leadership, she is referring to a thing of the past," Ferrer added.
Acting PhilHealth President Ferrer said that the present PhilHealth Board members were appointed by President Duterte, and our President's principled stand and courageous stance have rubbed off on every Board member and, added Ferrer, "No members shrinks from the challenge to cleanse PhilHealth of shenanigans.
"Our top management executives who are directly under me are loyal to the higher ground principles and policies of a PhilHealth, and no villainous mafia member can survive within their ranks," Ferrer emphasized.
The former PhilHealth staff "is like Rip Van Winkle who woke up after over three years, and she could not make sense of a PhilHealth that is strong and resonant," Ferrer laughed off, adding "because she thought PhilHealth is like the cowardly, compromising, and powerless organization that it was during the time of Ms. Padilla and her boss."
Ferrer's advice to her: "Wake up to present day reality!"
The PhilHealth Chief adds: "For  Ms Padilla and that fictitious 'PhilHealth official' who hides in anonymity, I have this Bernard Baruch quotation for them: 'Every person has a right to his opinion, but no person has a right to be wrong with his or her facts.'"
Ferrer also clarified that so-called "mafia members" in the countryside are actually members of a syndicate of cheating, disloyal, and disgruntled PhilHealth officers who have colluded with hospitals and other health care facilities. Due to the campaign launched by Ferrer, in coordination with the National Bureau of Investigation (NBI) and other enforcement agencies, "this syndicate will soon disintegrate," predicted Ferrer as a fearless forecast.
"It is correct that these are ones who defrauded PhilHealth of funds," Ferrer added, but some of them have already been suspended, others are being investigated, a few others will soon be charged in court for criminal offenses."
"Congress first pointed out in July last year that a 'mafia' exists in the state agency, and they meant these cheating and colluding officials. Their sustained but sporadic activities do not qualify them as a 'mafia' – but they can be called economic saboteurs," Ferrer declared.
Ferrer's team have already launched a corporate-wide intensive fraud detection and enforcement activities that "will catch the thieving, deceiving, and villainous officials and their band of brothers among hospitals and other healthcare facilities," he said without mincing words.
A few months into his tenure, Ferrer ordered a reshuffle of regional vice presidents who responded with threats, refusals and delaying tactics. Their resistance was no match, however, to the grit and determination of PhilHealth President Ferrer.
Review of payment rates
Ferrer refuted Padilla's claims that there's no review of the rates and overpayments." On the contrary, Ferrer stressed, assessments and studies have actually been conducted to see if the rates are appropriate, adequate and not excessive.
"We even reviewed the relative values scale for surgical procedures and the international classification of diseases. In 2014, a World Bank and the German cooperation agency GIZ sponsored a study in 2014 on such case rates," Ferrer countered.
Ferrer disclosed that in 2017, PhilHealth came out with its new costings for pneumonia, while its coverage for hemodialysis sessions was cut by almost half. The studies and reviews do not always translate to adjustments in the rates, but they are useful in crafting policies and systems that contain costs and deter fraud and abuse at the same time.
Among these policies include pre-authorization protocols before an eye doctor can proceed with operating cataract patients; the putting of a limit for cataract operations to a maximum of ten per day per eye doctor to a maximum of 50 operations per month.
PhilHealth also instituted a medical prepayment review wherein all claims shall be assessed first of their compliance to existing policies and standards on quality care.
The said policy requires hospitals to submit the Claim Form 4 that enables the agency to detect irregular practices such as over utilization or under-utilization of services; unnecessary use of diagnostic and therapeutic procedures and interventions; irrational medication and prescriptions; fraudulent, false or incorrect information; gross or unjustified deviations from currently accepted standards of practice and/or treatment protocols; inappropriate referral practices; use of fake, adulterated, misbranded or unregistered drugs; among others.
Crushing fraud and abusive practices
The PhilHealth chief reiterated that control measures and reforms have already been institutionalized and are continually put in place to check fraud. He ordered an inventory of all administrative cases that have not yet been completed, and supported senior officers assigned to hear these cases towards speedy resolution.
Aside from intensified investigations, spot checks of health care providers are equally stepped up. It even set up a dialysis database, validation of multiple claims and of deceased patients, and the adoption of the Machine Learning Identification, Detection and Analysis System (MIDAS) that analyzes voluminous claims data to detect over utilization, among others.
As a result, in the first quarter of 2019 alone, the state health insurer has decided on 34 cases against 14 facilities and professionals; and is currently hearing 4,419 cases more. As of April this year, it also reported completion of 1,432 investigations even as it continues investigating close to 9,000 more reports of fraudulent activities where the highest numbers of cases come from Calabarzon, Northern Mindanao, and Davao regions.
Geared for UHC
The named source also doubted PhilHealth's ability to manage the P257 billion funds required to bankroll the Universal Health Care. "Again, this is baseless skepticism. They always attribute the entire amount to PhilHealth when the Department of Health requires a large part of the fund for its service delivery, governance and regulation functions – the fund is not entirely for PhilHealth alone." Ferrer asserted.
"Our members and stakeholders can truly rely on us when we say that their funds are in safe hands, and if there really are who defraud the Program – we will not stop until they are put behind bars. And the stolen funds will be  recovered for the sake of our members," Ferrer assured.
"Under the Duterte government and under my watch, PhilHealth will move forward with uncommon courage and conviction, to fulfill the mandate of the Universal Health Care Law, to make a feeble PhilHealth a thing of the past that must be forgotten. A stronger PhilHealth is our present reality," Ferrer concluded./PN