ILOILO City – Barangay Captain Noel Odicta of Tanza-Esperanza, City Proper and four others were arrested during a police search of several houses in the village on Monday.
Authorities suspected they were illegally hoarding firearms and explosives in violation of the Comprehensive Firearms and Ammunition Regulation Act.
The 54-year-old Noel is the brother of slain drug lord Melvin "Boyet" Odicta.
The operation at around 5 a.m. turned fatal for an illegal drug suspect who fired at one of the officers.
Police shot and killed the 48-year-old Andrew Altas, a brother-in-law of the Odictas.
Sustaining gunshot wounds on the head and body, Altas was pronounced dead at the Iloilo Doctors' Hospital.
Another Odicta brother, 49-year-old Jerry, was arrested along with retired soldier Abraham Orada, 63, Melvin's former bodyguard.
Village councilman Samuel Rubinas and Melvin's helper Vic dela Peña were accosted, too, for intervening in the operation, police said. They face an obstruction of justice charge.
Officers from the Police Regional Office 6's Regional Drug Enforcement Unit, Regional Intelligence Division (RID) and Regional Mobile Force Battalion (RMFB), and the Iloilo City Police Office conducted the search.
They were armed with a warrant issued by Judge Victor Gelvezon of the Regional Trial Court  Branch 36.
Police seized from the house of Noel a hand grenade, a .45 pistol and two magazines with ammunition.
Recovered from his brother Jerry's house were a .38 revolver and ammunition, and from Orada's house, a .45 pistol and a .38 revolver with ammunition, said the police.
No illegal drugs were found in the houses but regional police director Chief Superintendent John Bulalacao identified the owners as drug suspects – specifically as "remnants of the Odicta drug group."
Bulalacao claimed that the suspects were allegedly handling now the drug business left by Melvin.
Police said the suspects claimed they were licensed to possess the firearms but failed to show any document.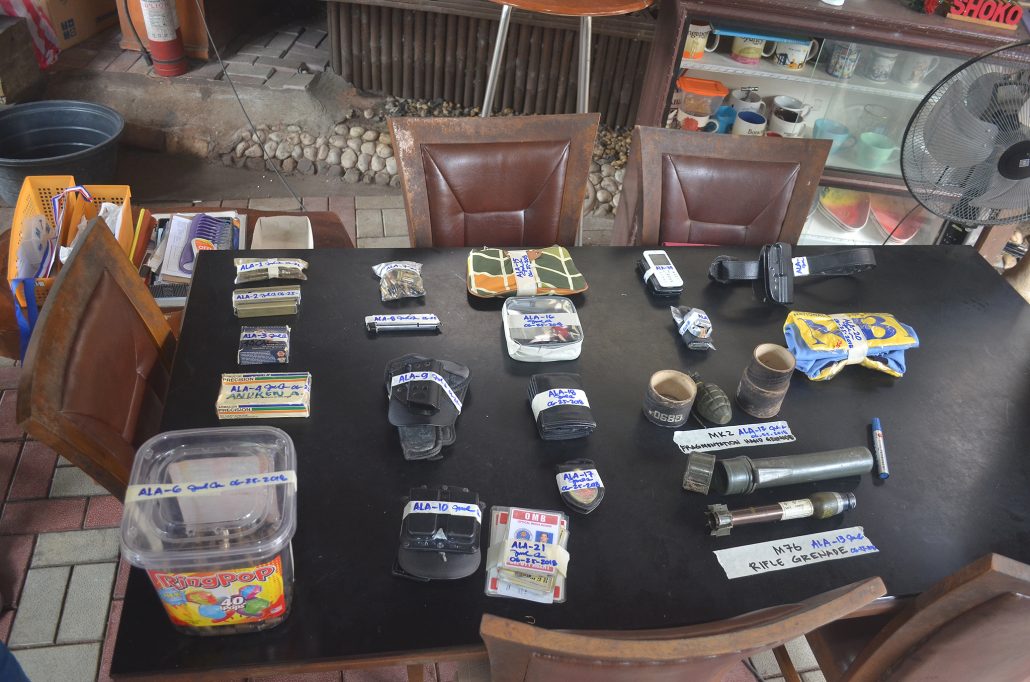 4 DRUG SUSPECTS KILLED IN 2 DAYS
Bulalacao described Altas as "former agent" of the National Bureau of Investigation Region 6.
Altas shot one of the leading operatives, Police Officer 1 Ricky Sitier of the RMFB, Bulalacao said.
Sitier knocked on his door but Altas fired at the former on the chest at close range upon opening up, forcing the other officers to fire back, said Bulalacao. Sitier's bulletproof vest saved him.
Altas was the fourth drug suspect reported killed in Panay Island in two days.
Barangay Captain Remia Prevendido Gregori of Bakhaw, Mandurriao district – sister of slain drug lord Richard Prevendido – and house help and alleged drug courier Analee Antipatia were fatally shot at the former's Crystal Beach Resort in Barangay Igcadlum, San Joaquin, Iloilo at around 4 p.m. Sunday.
Gregori was a high-value target in the campaign of the Mandurriao police against illegal drugs.
Earlier that day at around 11:55 a.m. police shot and killed Edwin Salvador Sr. during a buy-bust operation in Barangay Semirara, Caluya, Antique.
Police identified the 49-year-old Salvador as a "drug surrenderee."
Salvador shot an undercover officer when the latter was about to handcuff him but missed. Backup officers fired back, police said.
Noel Odicta and the three other subjects of the police search in Barangay Tanza-Esperanza, City Proper were placed in RID custody and had undergone a medical checkup prior to their detention at Police Station 1./PN