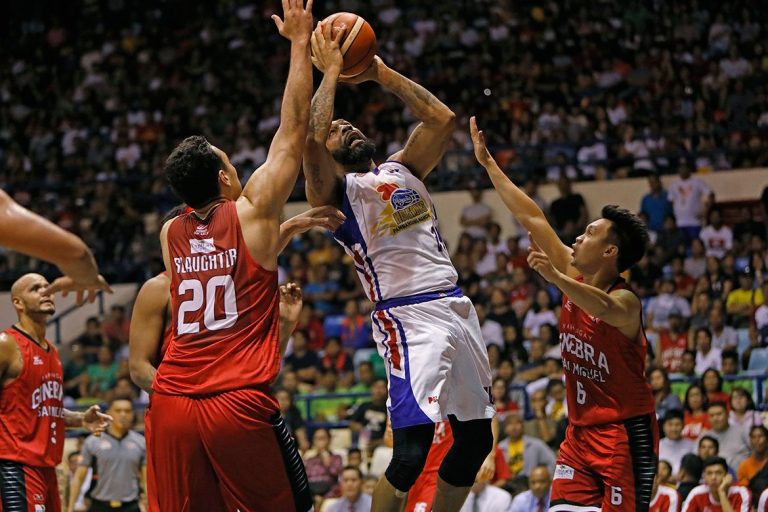 MANILA – Magnolia Hotshots ended Barangay Ginebra San Miguel Kings' two-year reign with a come-from-behind 112-108 win in Game 4 of the 2018 PBA Governors' Cup semifinals last night at the Ynares Center in Antipolo City.
Fired up by a non-goaltending call on Paul Lee, the Hotshots turned a 101-106 deficit to a 108-106 advantage on a basket by Romeo Travis, free throws by Jiovani Jalalon and a three-point play by Travis.
After a missed three-point tries by the Kings, Hotshots extended the lead to 110-106 on two free throws by Jalalon. Kings cut the deficit to two on an inside hit by Justin Brownlee but Lee canned two free throws to seal the win for the Hotshots.
Travis, who played the match with a hamstring injury, finished the match with double-double 50 points and 13 rebounds, while Ian Sangalang and Lee added 14 and 11 points, respectively.
The Hotshots is aiming for its first PBA title in four years.
The Kings started strong and went up by as much as 10 points in the opening quarter but the Hotshots slowly caught up in the second canto on consecutive points by Travis to come to within 51-53 at the half.
The Kings went up 58-53 at the onset of the third period but it was quickly vanquished by the Hotshots with connections from Lee, Travis and Sangalang for a slim 81-79 edge heading into the fourth.
The Hotshots opened the fourth with baskets from Travis for an 87-81 lead but the Kings rallied back and made it a seesaw affair before gaining a 106-101 advantage on a Brownlee free throw.
Brownlee finished with 32 points, nine rebounds and seven assists. Japeth Aguilar has double-double 25 points and 14 rebounds for the dethroned two-time Governors' Cup titlist.
BOX SCORE:
MAGNOLIA 112 – Travis 50, Sangalang 14, Lee 11, Jalalon 9, Herndon 8, Barroca 8, Simon 6, Dela Rosa 4, Reavis 2, Melton 0, Brondial 0.
GINEBRA 108 – Brownlee 32, Aguilar 25, Thompson 12, Tenorio 12, Devance 11, Slaughter 7, Mercado 5, Chan 2, Mariano 2, Ferrer 0.
Quarterscores: 20-27, 51-53, 81-79, 112-108./PN