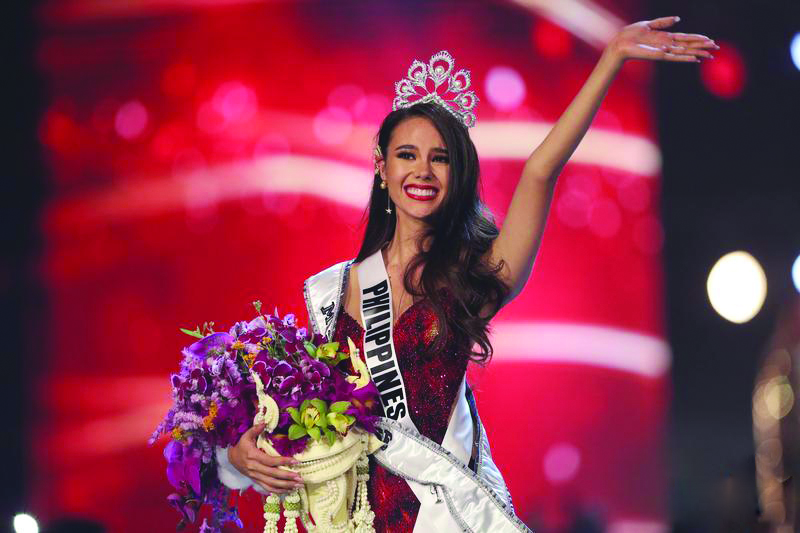 MANILA – Newly-crowned Miss Universe Catriona Gray admitted that pressure mounted on her days prior to the pageant coronation on Monday morning at the Impact Arena in Bangkok, Thailand.
In a press conference, the Filipina-Australian said there was pressure to do good in the competition but she managed to draw inspiration from her family, friends and supporters.
"There were moments of doubt when I felt overwhelmed because of the pressure, because so much is expected of a Philippine representative. But I would always look at my fans and supporters," Gray said.
She added: "I had to have mental fortitude. I had to keep my spirits high every step in the way. Miss Universe has brought together different women who have accomplished much in their careers. We are lifting each other up."
As part of her advocacy, the 24-year-old Gray said she plans to expand her platform in education as well as the awareness on Human immunodeficiency virus infection and acquired immune deficiency syndrome (HIV and AIDS).
"I would like to expand my platform on education. I work closely with an NGO (non-government organization) in the Philippines focused on HIV and AIDS," she said. "But I would also be willing to lend my voice to any cause that might come my way."
The Oas, Albay native also said she is now excited to start her journey as a Miss Universe, which includes relocating to New York City and travelling to other parts of the country.
"My Miss Universe sisters have told me so many wonderful things about where they came from," Gray said. "What's for sure is that whatever country I visit, I'll have a friend there now."
"I am also excited to move to New York. There are so many Broadway shows I would love to see," she added. "I would also like to visit Indonesia, I haven't been there. I would also like to go to Europe."
Gray became the fourth Filipina to take home the Miss Universe crown aside from actress Gloria Diaz in 1969, Margarita Moran in 1973 and Pia Alonzo Wurtzbach in 2015.
Wurtzbach in an Instagram post moments after the coronation on Monday morning said Gray's crowning moment "is just the beginning" for her journey.
"This girl is on fire! You started strong and captured our hearts with your grace, commitment, and fearlessness! And that walk… how could anyone forget that walk?" wrote Wurtzbach, who was at the coronation.
The former Miss Universe titleholder added: "You have made us all proud! Raise your flag!"
Margarita Moran, who won the competition in 1973, and Diaz, who was hailed as the most beautiful girl in the universe in 1969, also heaped praise on Gray.
"Amazing! She's gorgeous and outstanding from the start! Well-deserved victory!" Diaz said in an interview with ABS CBN News.
Moran, in an interview with the ABS CBN News Channel, also lauded Gray for her performance in the "tough competition."
"It was a tough competition. But Catriona was outstanding in her walk and performance in the question and answer!" Moran said. "Catriona's answer to all questions were well studies, she really prepared."
The final question was: "What is the most important lesson you've learned in your life and how would you apply it to your time as Miss Universe?"
To which Gray answered, "I work a lot in the slums of Tondo, Manila and the life there is… it's poor and very sad. And I've always taught myself to look for the beauty of it, to look for beauty in the faces of the children and to be grateful."
She continued: "And I would bring this aspect as a Miss Universe, to see situations with a silver lining, and to assess where I could give something, where I could provide something as a spokesperson. If I could teach also people to be grateful, we could have an amazing world where negativity could not grow and foster, and children would have a smile on their faces."
Finishing behind Gray was Tamaryn Green of South Africa and Miss Venezuela Sthefany Gutiérrez.
In the first round of question and answer for the top five candidates, Gray was asked if she is in favor of legalizing marijuana for medical use, but not for recreational use.
"I'm for it being used for medical use, but not so for recreational use. Because I think if people will argue then what about alcohol and cigarettes? Everything is good but in moderation." Gray answered.
In her opening statement, Gray said that her experience working in some of the poorest areas in the Philippines made her realize that lack of child support and not poverty killed the dream of the Filipino children.
"A child once told me, 'Cat, that's just not my life and those dreams aren't meant for me.' But I stand here today because someone believed in me and we owe it to our children to believe in them," Gray said./PN