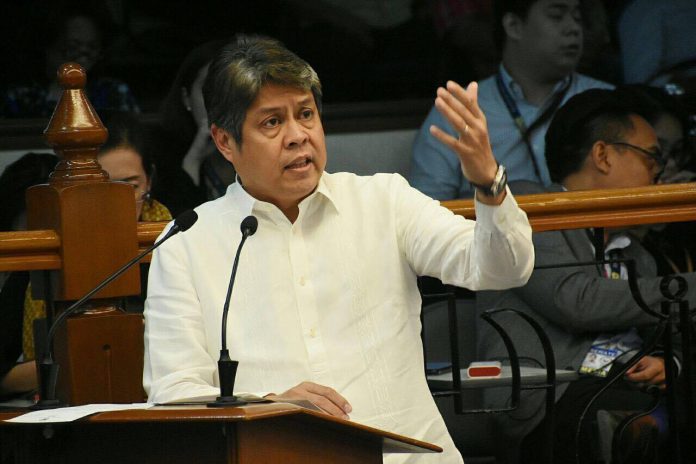 SENATOR Francis Pangilinan is urging the government to prioritize giving financial assistance to farmers whose incomes are affected by the continuous drop in palay prices, supposedly due to the implementation of the Rice Tariffication Law.
In an interview aired Sunday, Pangilinan said that while the law provides funds for farm mechanization through the P10-billion Rice Competitiveness Enhancement Fund (RCEF), it is not what Filipino farmers need at the moment.
"'Yung mechanization, totoo makakatulong 'yun. Pero kailangan ka pa makikinabang doon sa mechanization? At the earliest, baka one to two years. Pero 'yung nawala sa bulsa, ngayon na 'yun," he said.
"Tsaka na natin i-mechanize. Unahin muna 'yung direct cash assistance," he added.
Signed in February, the Rice Tariffication Law allows unlimited importation of rice as long as private sector traders secure a phytosanitary permit from the Bureau of Plant Industry and pay the 35 percent tariff for shipments from neighbors in Southeast Asia.
But despite the good intentions of the law, it has also been blamed for the drop in the prices of palay harvested by local farmers.
Pangilinan said a mere P1 decrease per kilogram of palay would lead to huge income losses to farmers.
"We produce 20 billion kilos of palay….Kapag binenta 'yan ng P21 per kilo, mapupunta [yan] sa bulsa ng ating magsasaka….Kapag nagbawas ng piso sa 20 billion kilos, lumalabas na P20 billion ang mawawala sa bulsa ng ating magsasaka sa bansa," the senator explained.
Pangilinan earlier filed a measure amending the Rice Tariffication Law as well as allowing P13-billion immediate cash assistance to farmers.
According to him, there are two possible sources of direct cash transfer to farmers: the fund balance of P4 billion of the P10 billion appropriated for the Rice Competitiveness Enhancement Fund under the "unprogrammed" appropriations of the 2019 national budget, and the P9.19 billion collected as tariff revenues from rice importation from Mar. 5 to Aug. 31.
Liberal Party congressmen have also proposed a similar measure at the House of Representatives.
"We have to immediately switch gears now that it is evident that the RCEF, as it is, is not enough to cushion the effects of the Rice Tariffication Law," said Marikina representative Stella Luz Quimbo.
"What our farmers need is immediate cash assistance, not loans that will only add burden to the smallholder farmers," she added. (GMA News)