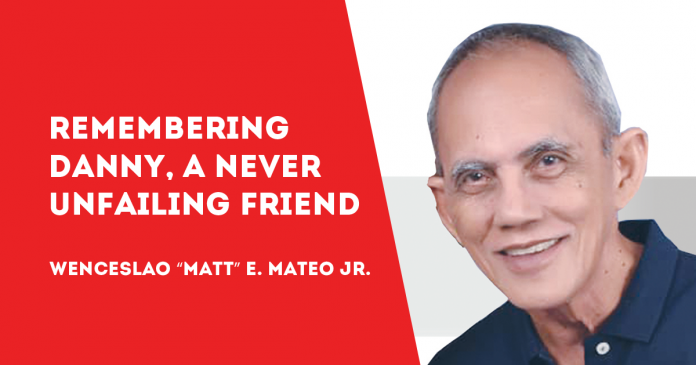 WE MARK the first death anniversary of the late Panay News founder and publisher Danny Fajardo today with fond memories of a good friend.
It was not a perfect relationship, yes, but he was always a friend – a never unfailing friend – in and out of the failings of our relationship, personal and professional.
My first journalistic acquaintance with Danny was as a freelance columnist with Panay News when it was still a toddler coming out just two to three times a week some time in 1985.
At that time, Marcos' martial law was already fast souring bitter and peppery hot, following the assassination of former senator Benigno "Ninoy" Aquino Jr. on Aug. 21, 1983.
Danny immediately became a friend (of my causes), as he assured me full liberty in writing my columns, ready to defend me (and other columnists) against libel and even harassment from the disgruntled "henchmen" of the strongman regime.
Panay News took the cue to hit the ground to open its pages to the outpouring of sympathy for the slain Aquino, and liberally carried the blood-drenched issues on its news reports, columns, and revealing blind items, which made it very popular, even as it also earned many death threats.
Democracy was restored in February 1986 when Marcos and his family fled to Hawaii and left the presidency to Aquino's widow after winning the 1986 snap election.
Panay News, thereafter, became most popular and soon was coming out six days then seven days a week.
But Panay News, like any business entity, can go through difficulties. Because of this financial difficulty some time in the early 1900s several reporters, including the editor – including myself, then a weekend editor – took their leave.
I did not take the issue personally and even assured Danny that should things turn green again I would still like to return to Panay News.
When that time came, it was Danny himself, showing his unfailing friendship, who personally invited me to return to the paper just two or three years after to run a Panay News magazine.
When this did not succeed, I asked permission from Danny to take a job in another newspaper. Thereafter, I was recruited back by his son, now Pavia, Iloilo's Kagawad Dan Fajardo, to write in the Hiligaynon edition of Panay News.
Soon after I was commissioned to write my Hiligaynon column in Panay News, where I still write today./PN