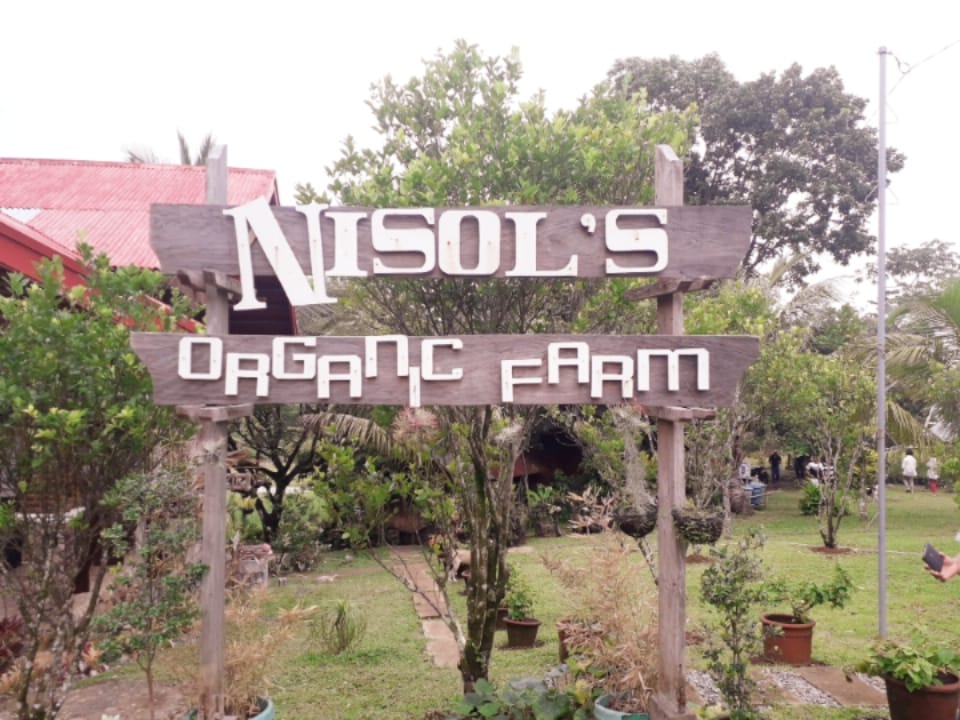 There is more to Victorias City than the famed VMC millsite and its famous chapel. Although the smallest local government unit in terms of land size in Negros Occidental, Victorias City holds many treasures. The St. Joseph the Worker Chapel is a National Cultural Treasure. Other gems in the city's treasure chest are the Penalosa farm (with integrated farming done on barely a hectare of land), multi-awarded Federico's Island Wine (the only commercial winemaker in the province), and there's Gawahon Eco Park, the natural haven for tired city souls and lovers of the environment.
Among the marigolds, natural pest repellant, in Nisol's Organic Farm

Okinawa and Victorias are kindred spirits.

The clean, well-curated Okinawan House is a small learning center about Okinawan culture.
Gawahon Eco Park has a lagoon so you can contentedly go boating. It has waterfalls so you can splash about like crazy in the waters, has paved roads so you can drive about or hike peacefully lost in your thoughts, has a swimming pool so you can float and relax, has cottages so you can spend the night there, has lots of birds so you can go bird-watching either seriously or just to get visually delighted by our feathered friends, and has Nisol's Organic Farm so you can have lunch and coffee.
Bugnay, duhat and pineapple are miraculously turned to wine.

Nisol's serves lunch with prior reservations
Bird watchers or birders will find Gawahon worth the trip. The high-elevation area is home to Flame-templed Babblers, Visayan Flowerpeckers, Orange-bellied Flowerpeckers, Citrine Canary Fkycatchers, White-throated Jungle Flycatchers, Lemon-throated Leaf-Warblers, Yellowish White-Eyes, Indigo Banded Kingfishers, Visayan Fantails, Elegant Tits, Visayan Bulbuls, Black-naped Monarchs, White-bellied Munias, Buff-eared Brown Doves, and my favorite the Visayan Tarictic Hornbill. There is more! The flora and fauna that abound at Gawahon will make you want to go back and soak in nature. Hopefully, it will make one more thoughtful about preserving this piece of natural beauty.
Victorias City Tourism Officer Rica Calsena explains about the birds species in Gawahon

Nisol's is a small farm but has big ideas in it
Working with nature and profiting from it can be viable as the members of Victorias Integrated Social Forestry Farmers Association showed. An 11-hectare land planted with rice, fruit trees, and vegetables, Nisol's Organic Farm was put up to resonate with the government's thrust to support agro-eco-tourism. One can arrange for lunch at the restaurant and a short tour to observe natural and organic farming practices of the members. Some of them have been sent on a cultural tour to Okinawa to supplement their agricultural knowledge. They not only sell farm produce, but also level up with bottled pickles and sinamak, packaged fruit and vegetable chips, seedlings, and raw honey.
Not far ahead is the Okinawan House, a surprising addition of a Japanese edifice set in a trimmed, landscaped yard in the midst of this natural pleasant mess. Opened in April this year, the Okinawan House is a symbol of the friendship between Nanjo City in Okinawa, and Victorias City and the valuable recognition of Japan's donation of an ambulance, rescue vehicle and equipment to Victorias City. Learn about the distinct Okinawan culture and how different it is from the rest of Japan. But first, take off your shoes before entering./PN