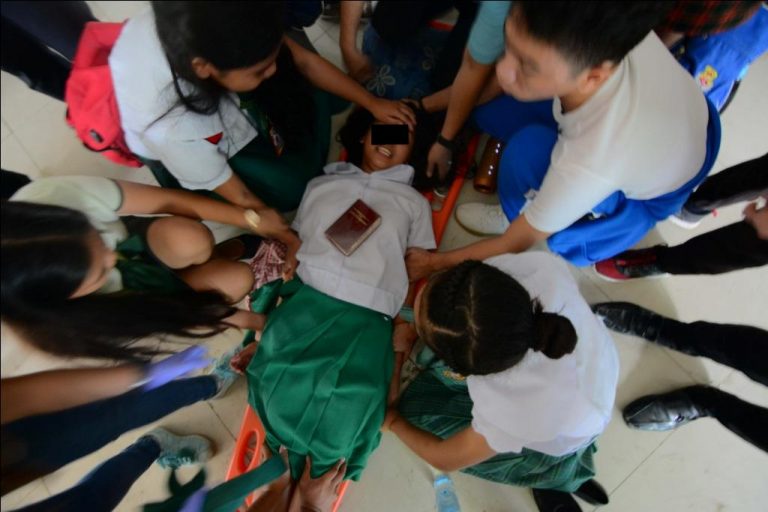 ILOILO City – Eleven students – all girls – of Iloilo City National High School in Molo district started behaving strangely at around 10 a.m. yesterday.
Some were wailing while others were shouting and shaking uncontrollably. They exhibited unusual strength and had to be restrained by several classmates and teachers.
Were they possessed by evil spirits? Or was this a case of mass psychogenic illness (mass hysteria)?
Concerned classmates and teachers brought these students to the school's clinic. A priest was summoned. Prayers were said.
Some returned to their senses and were sent home. Others were taken to the Molo Church for further prayers. One was taken to a hospital.
These young girls belonged to different classes and grades (Grades 7 to 11).
The strange incident disrupted classes. The school decided to cancel them for the whole day.
A father of one of these girls would later say – after his daughter returned to her senses – she claimed that a child was killed under the sambag tree inside the school campus and this child was crying for justice.
Some classmates of the 11 students said they saw the girls playing near the sambag tree prior to the start of classes yesterday morning.
Father Mark Lester Senina of Molo Church was asked to bless the sambag tree.
The school principal declined to issue a statement.
Classes are expected to resume today.
Spirit possession is the supposed control of a human body by spirits, aliens, demons or gods. The concept of spirit possession exists in many religions, including Christianity, Buddhism, Haitian Vodou, Wicca, Hinduism, Islam and Southeast Asian and African traditions.
In a 1969 study funded by the National Institute of Mental Health of the United States, spirit possession beliefs were found to exist in 74 percent of a sample of 488 societies in all parts of the world.
Meanwhile, in psychology mass psychogenic illness (MPI) is "the rapid spread of illness signs and symptoms affecting members of a cohesive group, originating from a nervous system disturbance involving excitation, loss, or alteration of function, whereby physical complaints that are exhibited unconsciously have no corresponding organic aetiology" (no viral or bacterial agent responsible for contagion).
Adolescents and children are said to be frequently affected in cases of MPI./PN