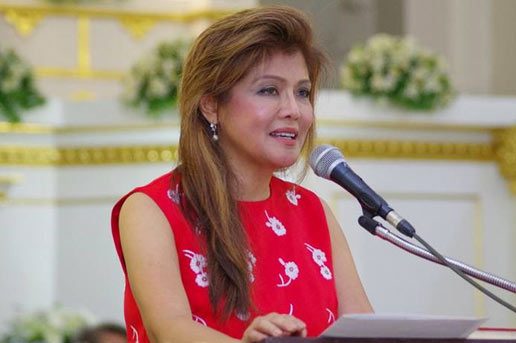 TO ADDRESS the record-high inflation that has been burdening Filipinos for several months now, Ilocos Norte governor Imee Marcos called for the immediate one-year suspension of value-added tax on basic food commodities, fuel and electricity.
A combination of substitute measures can offset the expected revenue loss because of this move, said Marcos, a senatorial candidate in the 2019 midterm elections.
"The temporary lifting of the VAT on basic commodities will provide urgent much-needed relief to Filipinos as inflation hit the hardest in the countryside. The poor Filipinos cannot wait for anti-inflation strategies that could take months to work. They need solutions now," Marcos stressed.
"A combination of 10 percent improvement in income tax collection, higher absorptive capacity or much less agency under-spending, and three other measures can generate P362 billion in revenues. That would replace the VAT that would be missed," she said.
Bureau of Internal Revenues figures show that if income tax collections grow by just 10 percent, the government can earn at least P102 billion in 2018 and P113 billion in 2019.
"I have confidence in the leadership and persuasive powers of Finance secretary Carlos Dominguez over the BIR and other revenue agencies. I am not asking for the impossible. Having been a governor and congresswoman, I am very aware of what can be done as regards tax administration and collection," said Marcos who also served as legislator for nine years in the House of Representatives representing the 2nd District of Ilocos Norte from 1998 to 2007.
Basic food items such as rice, fish, meat, and vegetables have been major drivers of inflation this year, with the contribution of rice alone rising 10 times to 1 percentage point of the inflation rate, according to the Department of Finance.
Rice was the number one contributor to inflation in September 2018, and food items in the consumption basket accounted for more than half of the inflation rate in the same month, Philippine Statistics Authority data showed.
"Filipinos cannot wait for global oil prices to go down. Prices are already too high for Filipinos living below the poverty line. Removing the VAT would lighten the burden on millions of Filipino households," Marcos said.
"The VAT suspension will run parallel to the anti-inflation measures of the Duterte economic team and Bangko Sentral ng Pilipinas. It will buy time for the recovery and expansion of the agricultural sector. Filipinos, most especially the poor, will be clear-cut winners if we can suspend VAT for a year as this will bring down the prices of food, fuel and electricity," the governor added.
Marcos noted that Ilocos Norte was the hardest hit by the skyrocketing inflation, thus making it hard for her constituents to make ends meet due to high prices of basic commodities.
She said that while President Rodrigo Duterte cannot amend the Tax Reform for Acceleration and Inclusion, he can suspend its implementation through an Executive Order./PN