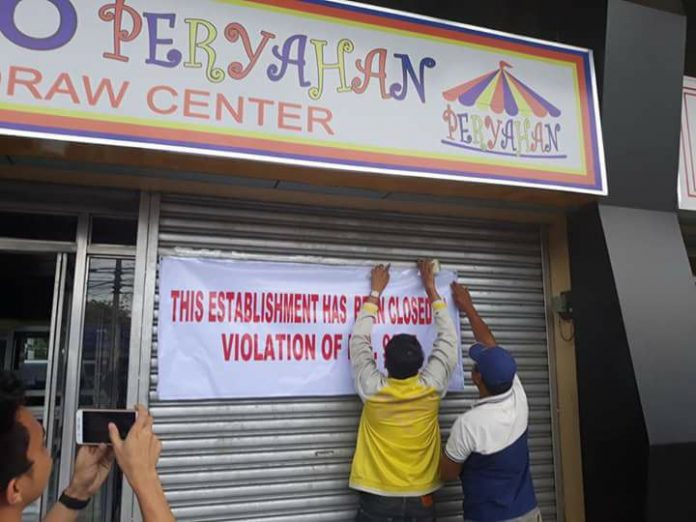 BACOLOD City – A lottery draw court located along Burgos-Lacson streets in this capital city was ordered shut yesterday.
Executive Assistant IV Manuel Fraginal Sr. of the Philippine Charity Sweepstakes Office (PCSO), however, did not have the proper documents when he directed the closure of PCSO Peryahan Draw Center.
Fraginal, also PCSO's Inter-Branch Security Monitoring head, said the Peryahan was illegal as PCSO no longer authorizes its operation.
He cited a certification that PCSO general manager Alexander Balutan issued on Feb. 27, which declared all Peryahan ng Bayan operations in the country "unauthorized and illegal."
Balutan issued this after the Regional Trial Court Branch 161 in Pasig City, Metro Manila denied Global Tech Mobile Online Corp.'s appeal for a writ of preliminary injunction on Oct. 13, 2017.
Global Tech operated all Peryahan centers in the Philippines. The one in Bacolod operated in 2014 (previously located along Hilado Street) but in the same year PCSO terminated its operation.
It resumed doing business along Burgos-Lacson streets in March this year.
Fraginal said the Peryahan violated Republic Act 9287 which increased the penalties for illegal numbers games.
The Peryahan also had dues worth about P100 million, he added.
But Peryahan Provincial Administrator Lito Estember said they won't close the center and would wait for the advice of their legal counsel Marvin Tañada.
Fraginal said ordering the closure of the Peryahan was in line with President Rodrigo Duterte's Executive Order (EO) No. 13 calling for an intensified fight against illegal gambling.
The EO also sought to clarify the jurisdiction and authority of concerned agencies in the regulation and licensing of gambling and online gaming facilities./PN