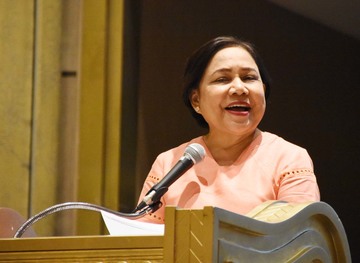 MANILA – Sen. Cynthia Villar remains the richest member of the Senate in 2019, based on senators' latest statements of assets, liabilities and net worth (SALNs).
Villar, whose family has interest in property and shopping malls, posted a net worth of P3.53 billion with no liabilities as of June 30, 2019.
Her wealth, however, dipped by over P185 million compared to last year's net worth of P3.72 billion.
Joining her in the billionaire's club is boxing champ-turned-Senator Manny Pacquiao with a net worth of P3 billion.
Pacquiao, who has amassed a huge fortune from his lengthy boxing career, recorded the highest liabilities at P146 million as of Dec. 31, 2018. 
The third richest member in the Senate is Sen. Ralph Recto with a net worth of P555 million, followed by Sen. Juan Miguel Zubiri with a net worth of P182 million and reelected Sen. Ramon Bong Revilla Jr. with a net worth of P164 million.
Rounding up the top 10 of wealthiest senators are Juan Edgardo "Sonny" Angara with P139 million; Franklin Drilon with P97 million; Sherwin Gatchalian with P96 million; Grace Poe with P95 million; and Pia Cayetano with P82 million.
Meanwhile, ranking at the bottom of the 24-seat chamber are Senators Leila de Lima with P7.7 million, Christopher Lawrence "Bong" Go with P15.5 million, Risa Hontiveros with P15.6 million, Francis "Kiko" Pangilinan with P16.7 million and Joel Villanueva with P26.9 million.
Go, who is President Rodrigo Duterte's former special assistant, spent some P161 million in his Senate bid during the 2019 midterm elections. 
He was the top campaign spender among winning bets, followed by Tolentino with P159 million, Poe with P156 million, Angara with P153 million, Villar with P135 million, Marcos with P132 million and Revilla with P121 million.
Senators are under salary grade 31, which is equivalent to monthly pay of at least P117,086, according to the Department of Budget and Management.
Below is the complete ranking of the senators based on their latest declared net worth.
* Sen. Cynthia Villar – P3,534,412,797 (As of June 30, 2019)
* Sen. Manny Pacquiao – P3,005,808,000 (As of Dec. 31, 2018)
* Sen. Ralph Recto – P555,324,479.82 (As of Dec. 31, 2018)
* Sen. Juan Miguel Zubiri – P182,851,570.34 (As of Dec. 31, 2018)
* Sen. Ramon Bong Revilla Jr. – P164,203,379.38 (As of June 30, 2019)
* Sen. Juan Edgardo "Sonny" Angara – P139,026,597 (As of June 30, 2019)
* Sen. Franklin Drilon – P97,726,758 (As of Dec. 31, 2018)
* Sen. Sherwin Gatchalian – P96,210,607.14 (As of Dec. 31, 2018)
* Sen. Grace Poe – P95,693,450.37 (As of June 30, 2019)
* Sen. Pia Cayetano – P82,308,227.36 (As of July 1, 2019)
* Sen. Richard "Dick" Gordon – P71,285,178.56 (As of December 31, 2018)
* Sen. Vicente "Tito" Sotto III – P70,120,700.30 (As of Dec. 31, 2018)
* Sen. Manuel "Lito" Lapid – P69,910,000 (As of June 30, 2019)
* Sen. Francis Tolentino – P62,482,000 (As of June 30, 2019)
* Sen. Nancy Binay – P59,911,019 (As of June 30, 2019)
* Sen. Panfilo "Ping" Lacson – P42,442,341 (As of Dec. 31, 2018)
* Sen. Imee Marcos – P29,970,467 (As of June 30, 2019)
* Sen. Koko Pimentel – P29,934,635 (As of June 30, 2019)
* Sen. Ronald "Bato" Dela Rosa – P28,258,908 (As of June 30, 2019)
* Sen. Joel Villanueva – P26,921,555 (As of Dec. 31, 2018)
* Sen. Francis "Kiko" Pangilinan – P16,695,048.17 (As of Dec. 31, 2018)
* Sen. Risa Hontiveros – P15,627,176.04 (As of Dec. 31, 2018)
* Sen. Christopher Lawrence "Bong" Go – P15,508,370.82 (As of June 30, 2019)
* Sen. Leila de Lima – P7,706,392.45 (As of December 31, 2018)(ABS-CBN News/PN)