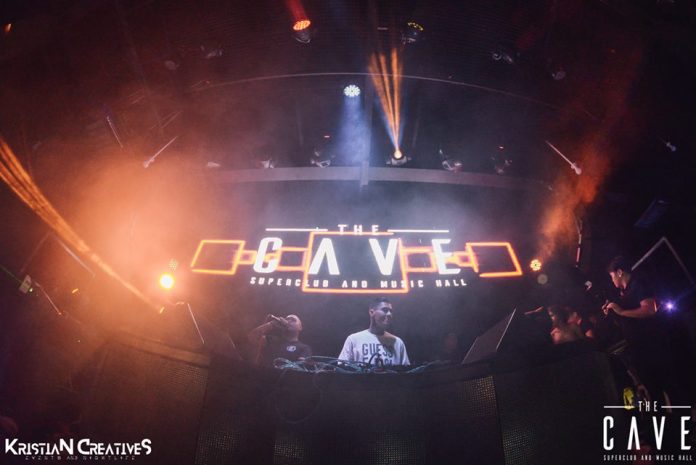 The night is young, and the lights are on; they're flashing in sync with the loud music's beat. It is partying in an elevated style—high end, sophisticated, but never lacking fun. You can spend your best fun nights at the The Cave Superclub and Music Hall.
The Cave Superclub and Music Hall is your newest spot for an elevated night life located at the ground of City Time Square, Diversion Rd. Manduarriao, Iloilo City. It had its soft opening last January 25, 2019.
The Cave provides the best of both worlds as the club is divided into two– the Superclub and the Music Hall. You can enjoy both as there are no disruptions in these two worlds as the walls are soundproof.
The Music Hall is the part of The Cave where you can chill and have fun with your friends. Sat in comfortable black leather seats and clinking the bottles of your drink, a band plays in front, and you get to listen to some acoustic and upbeat songs. You can do all these without having to pay an entrance fee.
Your perfect place for relaxation and unwinding during night time is in the Music Hall. Sit back and relax as you enjoy your dinner, snacks, or drinks while listening to the songs performed live by the band.
Speaking of bands, Siakol, a four-piece Filipino rock band already performed in the hall and the crowd went loud as they jammed along.
Meanwhile, the Superclub can accommodate 100 people in the VIP tables. Make a reservation and you'll receive a VIP treatment. Overall including the General Admission, 500 people can party in the Superclub as proven during their successful Dinagyang party where a sea of party goers had the time of their lives.
For walk-in guests, they can avail the General Admission without entrance fee on Wednesdays and Thursdays. On Fridays and Saturdays, there's a 200 pesos entrance fee inclusive of one free drink and a fun event with international and local DJs playing just for you.
Also, women can enjoy Wednesdays because these nights are declared as 'Ladies' Night'. This means women can get a drink for free while they party.
The Cave Superclub and Music Hall is open from Wednesdays to Saturdays with hours from 8:30 p.m. until the dawn.
Chill at the Music Hall and if you're in the mood to turn groovy, hyped up, and wildly happy, you can just enter the Superclub. Enter the cave and you'll have two worlds to choose from. This makes you feel the elevated night life./PN