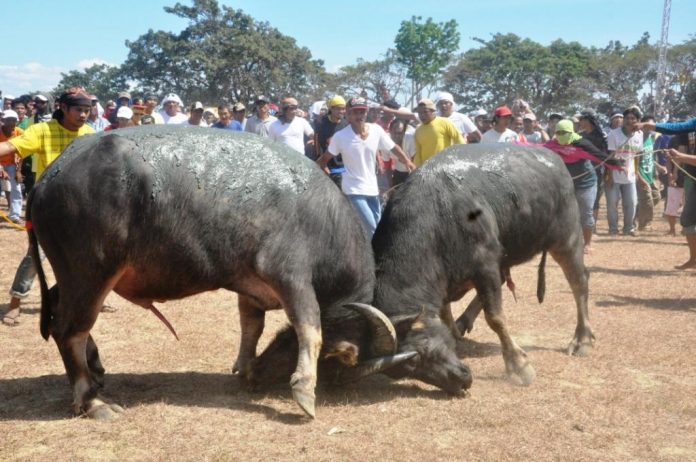 ILOILO – San Joaquin, Iloilo's annual pasungay (bullfight) is not animal cruelty, according to Mayor Ninfa Garin. But mindful of possible adverse legal repercussions if the activity is continued, she announced there won't be one for the second straight year.
In pasungay, carabaos, cows or horses owned by local farmers are pitted against one another other for entertainment.
Animal welfare group Animal Kingdom Foundation condemned the practice as animal cruelty and a violation of Republic Act 8485 or The Animal Welfare Act of 1998.
This is not a form of animal cruelty, insisted Garin, but a celebration and acknowledgement of the importance of farm animals in the daily life of the people of San Joaquin as an agricultural community.
"The age-old pasungay is part of San Joaquin's rich culture and tradition inherited from our forefathers. It is proper that we preserve and promote it, mindful that culture is a human right that must be practiced freely and with responsibility," stressed Garin in Hiligaynon.
In 2019 Garin scrapped the pasungay as highlight of the municipal fiesta of San Joaquin every Jan 19, after Animal Kingdom Foundation protested.
In a statement announcing the non-holding of pasungay this year, Garin assured her constituents she would find ways to make sure this ancient tradition would be observed in the future.
As early as two months ago, Sangguniang Panlalawigan member Marcelo Valentin Serag of San Joaquin called for the resumption of pasungay.
He pointed out that then provincial veterinarian Silvino Teodosio commented that bullfighting in San Joaquin was not a blood sport but "more of a wrestling match where each side comprised a bull and his human trainer."
Section 6 (prohibition on animal fights) of the Animal Welfare Act states: "It is prohibited to subject animals to fight such as, but not limited to dogfighting, horse fighting and bullfighting. A person must not a) cause procure, permit, encourage, promote, organize or incite a fight in which an animal is pitted against another animal for whatever purpose or reason; b) advertise promote the intention to conduct such a fight…"
"Despite the name, pasungay in San Joaquin is anything but bloodless," stressed Serag. "It is not a blood sport. The animal involved do not attempt to head-butt or attempt to use its horn to impale, puncture or piece any part of the body of its opponent."
He urged the Department of Agriculture to revisit the Implementing Rules and Regulations of the Animal Welfare Act and to "reevaluate its conformity with the spirit of the Act, and if so warrants, to categorically state that pasungay is not covered by the definition or contemplation of prohibited animal fights for is not bullfighting per se and that is part of culture that will be afforded due respect and allowed to flourish."
The Provincial Board member also wanted the National Commission for Culture and the Arts to declare pasungay as "a long-time practice and part of the culture and tradition of San Joaquinhons."/PN