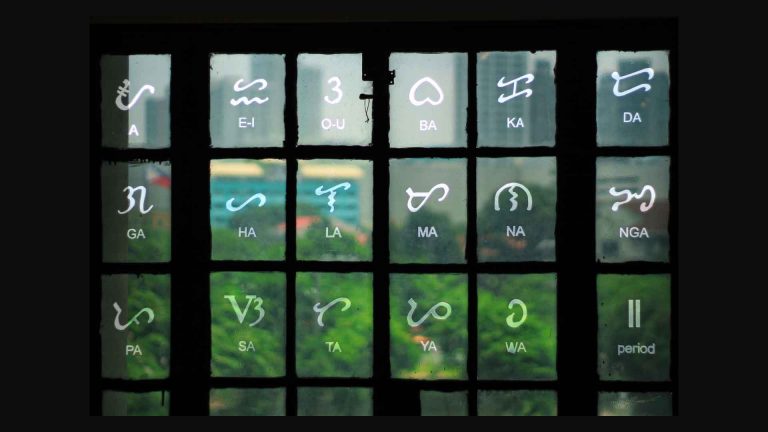 MABUHAY ang mga Wikang Katutubo!
The Department of Education, through the Komisyon sa Wikang Filipino (KWF), is celebrating the annual Buwan ng Wikang Pambansa this month with the theme "Wikang Katutubo: Tungo sa Isang Bansang Filipino," paying homage to the Philippines' myriad rich regional languages.
This is in line with the UNESCO initiative to rally 2019 as the International Year of Indigenous Languages, urging countries to mount campaigns that empower, enrich, and engender Philippine languages, now inventoried to be more than 170 nationwide.
In the same vein, Filipino lawmakers have taken steps to enshrine and integrate Baybayin, a pre-Hispanic writing system used by our Philippine ancestors, into the country's national writing system.
Approved by Congress last year, House Bill 1022, or the proposed "National Writing System Act," seeks to promote greater awareness of the ancient script by mandating local government units to include appropriate Baybayin – alongsidetheir modern Filipino or English counterpart, of course – in signages for street names, parks and monuments, government buildings, and other public spaces.
With Baybayin considered a national treasure, the bill has gained the support of the Department of Education and the National Commission for Culture and the Arts (NCCA).
Rooted on the word baybay, or to spell out, Baybayin has been seen as being used by old indigenous Filipinos to communicate, sign documents, and write poetry – etched onto stone, ivory seals, and bamboo, among others. It is fair to emphasize that alibata, as it was previously more popularly known, is a misnomer for Baybayin. Alibata refers to the Arabic alphabet, very much dissimilar from the unique Baybayin.
The timeworn writing system has found newfound popularity in millennials wanting to pay tribute to their Filipino roots. Unbeknownst to most, Baybayin's beautiful evocative script is actually really easy to master.
Learning Baybayin
Baybayin is a fairly easy script to learn, with only 17 integral characters.
With three symbols for independent vowels and 14 for base consonants, the first step in learning Baybayin is memorizing its glyphs. The characters vary slightly depending on your source material, but they largely keep their curvature form even with the small differences. For example, the symbol for the syllable "ba" always seems to resemble an upside-down heart, while "ha" and "ka" look like a side-ways S and a stylized capital I, respectively. Refer to the graph below to guide you.
Unlike the Western alphabet, in Baybayin each symbol represents a syllable (whereas each character in the English alphabet represents a sound). So to spell out a word in the script, you need to operate on a phonetic level, reducing a word to its "sounds like" syllables, or how you pronounce it in the Tagalog alphabet, (you know ABaKaDa alphabet).
For example, the name Leah, in transcribing it to Baybayin, can be broken down to "Le-Ya," each syllable set to correspond to a single symbol from the script. Similarly, Bianca will be written out as "Bi-Yang-Ka".
Now, the default of all 14 of Baybayin's base consonants are /a/ sounds, hence the character for B is red as "ba," K is "Ka," D is "Da," and so on and so forth. To access the other vowel sounds, there is no need to write out the symbol of the independent vowel, simply add a kudlit or dot on top of the character to make an /e/ or /i/ sound, or put it below the character to make it /o/ or /u/.
To illustrate: if you want the syllable "Bi" or "Be," jut down the symbol for B (the upside down heart) and a kudlit above the character, if you want the "Bo" or "Bu" syllable, add the kudlit below. Now to remove, the /a/ sound from a syllable, put a krus-kudlit, or small x below it.
Some tips for "fluently" writing in Baybayin: use the Filipinized or Spanish version of certain words if they're difficult to transcribe as pronounced (for example, company – kampani, candy – kendi, Joseph – Diyosep). Also, remove silent letters, given that Baybayin operates phonetically, it's much easier to transcribe words when you remove their silent letters (for example, Rosanne should not be broken down as "Ro-Sa-Ne" but as "Ro-San").
If you're still a little confused after reading my easy guide to Baybayin, there are plenty of resources only that can help you understand the script further. Now more than ever, we need to treasure our indigenous writing systems and regional languages!
Maligayang Buwan ng Wika! Happy writing!/PN