DINAGYANG Festival is just around the corner and there's no doubt that because of this festival, tourists will be coming in from different parts of the Philippines and the world. Local and foreign tourists get to experience their first time in the City of Love.
Beyond the dancing warriors, colorful buntings, thrilling drumbeats, and the joyous atmosphere of Old Iloilo, there are lots of other things that tourists can do in Iloilo. What else can be experienced in Iloilo during this season?
Visit ILOMOCA
Iloilo Museum of Contemporary Art (ILOMOCA) is located at Casa de Emperador Festive Walk Parade, Mandurriao, Iloilo City. The stunning ILOMOCA is the first art institution that features the works of Filipino and Ilonggo artists. Get ready to be flabbergasted upon walking along the hallways of the museum. Each angle, space, and corner speak of art. Once you visit ILOMOCA, you'll surely fall in love with the crafts a human can make.
Experience Festive Colorverse
Located at the third floor of Festive Walk Mall in Megaworld, this attraction gives you the best picture-perfect moments. You can take photos in the five colorful virtual rooms. These include a room resembling clouds, a pool of balls, raining lights, and more that introduces you to the universe of vibrant colors. This place will surely want you to take tons of pictures.
Chill at Barking Café
Good food and drinks give you a good time in Barking Café located at Festive Walk Mall. Added with a chill conversation with friends, you are sure to have a great time. But what if there are different breeds of dogs around you too? They look so cute and you can take photos with them too. With their wagging tails, well-groomed fur, and iridescent glow, you'll surely have the best experience in this café.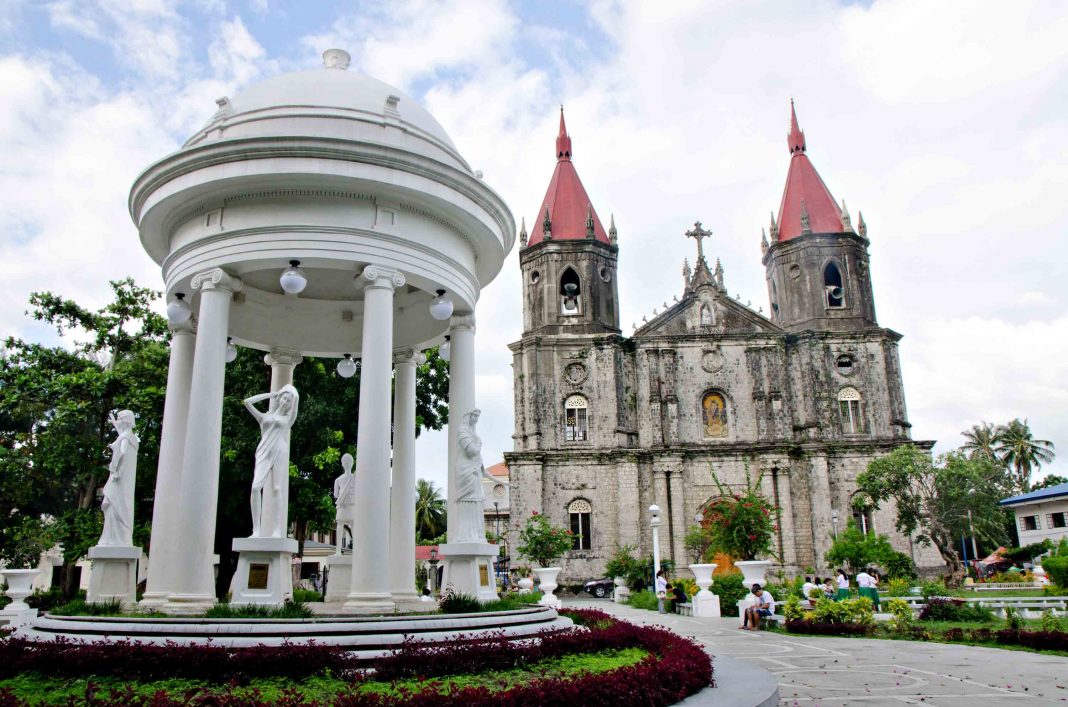 Visit churches
One fact Iloilo is proud of is the existence of beautiful churches within the area. For instance, St. Anne's Parish in Molo boasts such fine architecture and the beautiful Plaza is one to be proud of. With the statues of goddesses, playground for kids, and good chilling spots, you can gaze at the church well. Aside from the St. Anne's Parish in Molo, you can also visit the Jaro Cathedral. Wonderful and picturesque, the church brings you back to older times.
Eat batchoy
Iloilo is known for its La Paz Batchoy. As a noodle soup made with beef loin, chicken stock, cracked pork cracklings, and pork offal, one is surely in for a satisfying meal. Go to Netong's or Ted's and experience this undoubtedly palatable Ilonggo delicacy. One taste alone can set fireworks beaming in colorful sensations inside your mouth.
Take a photo in 'I AM ILOILO'
Found in Iloilo Esplanade, you must take a photo with the "I AM ILOILO PROUD TO BE ILONGGO" sign. It has become a landmark for tourist. When you take a photo in this iconic sign, you are sure to have left a souvenir and a proof that you have truly visited the City of Love. It's a spot for wonderful travel memories./PN