THE Boracay I've grown to idealize is culled from my memories of the island some 15 years ago – when I first set foot on White Sand beach with my family for a week-long vacation.
I was an elementary student at that time, stunned by the seemingly endless stretch of mellifluous sand and pristine waters that unfolded on both sides of our motorized banca. There were few tricycles at that time, but that didn't seem to be a hindrance for tourists, as it was so easy to walk leisurely to anywhere on the island.
It was a joy in itself to stroll from our thatched-roof hut to the shore, seeing vendors hawking colorful souvenirs, ladies in billowy kaftans and sunhats, fishermen lugging the day's fresh catch on buckets. Paved roads along the White Beach were still few and far between, most just leading inland to the residences of island locals.
But even then Boracay already showed red flags of what would be its eventual environmental decline: shops and restaurants that infringed too much on the beachfront, fire dance shows that spilled kerosene on the sand, tourists that littered and combed the coast for large shells to take home as mementos.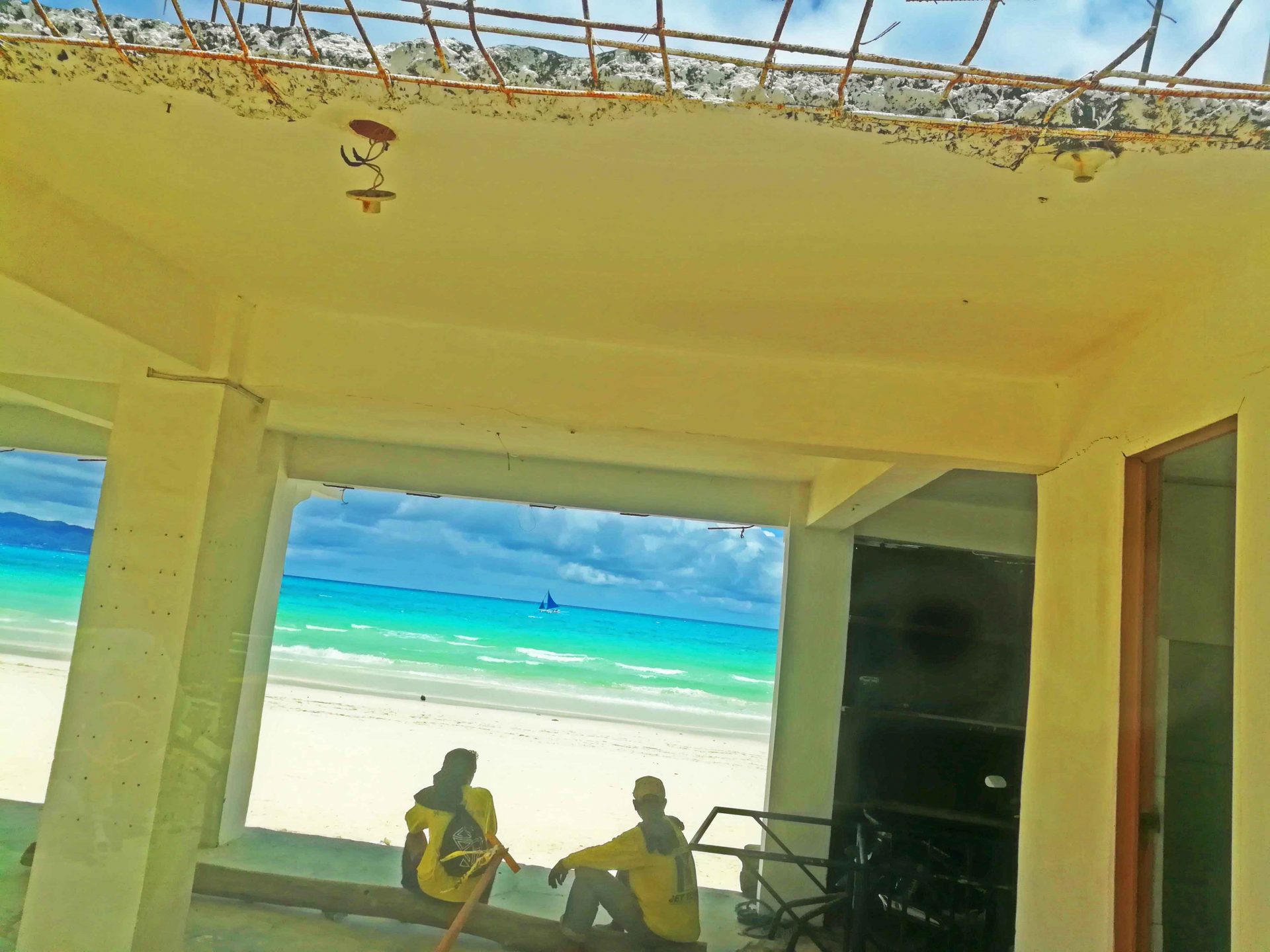 Nearly a year so after it was reopened to tourists after a 6-month window of rehabilitation, one can't help but ask: How much has Boracay truly changed for the better? After all, a lot of establishments on the island now brandish tarpaulins that proudly proclaim "I helped #SaveBoracay." Not much apparently, not much has changed.
UNSEEN BORACAY
Traversing a mile or so away from Cagpan Port – with its revamped terminal and new floating docks – manicured roads and well-maintained pedestrian walkways give way to pockmarked streets, flooded drainages, and half-demolished beach-front shops. The island's main thoroughfares remain largely unfinished, with road rehab still on-going since the April 2018 closure of Boracay.
Hounded by massive traffic, the buildup will leave you dumb-founded and asking "how could this happen on such an idyllic island-paradise?" – an unseen side of Boracay you'll have to see and experience for yourself to believe.
I kid you not, on our way to our hotel, we were delayed 30 minutes or so because a cement truck swiped some low-dangling wires along the jetty port road – that hassle is more than enough to uproot you from your "vacation mode." The traffic is not helped by the fact that most roads on the island have been reduced to one-way thoroughfares due to unfinished rehabilitation and clearing operations.
Also infrequently discussed by touristy write-ups is the island's manic and inadequate transport system. You're lucky if the hotel or resort you're staying at has free air-conditioned shuttle services – shout out to Boracay Newcoast – otherwise you're left to the mercy of the sweltering heat while seated on rickety tricycles. Sure, e-trikes have proven a welcome addition to the island in the recent years, but they've also contributed to the traffic congestion of the island.
A word of caution: tourist traps that prey on unwitting tourists still abound. A habal-habal driver tried to charge us 350 per person for a ride from the port to our hotel shuttle's designated pickup point. When we flagged an e-trike instead, we were charged only P20 each passenger. Mind you, same habal-habal driver wasn't wearing a helmet and didn't seem to have any to offer his riders.
This problem could easily be addressed by visibly posting the official fare matrix at all major ports – similar to what is done in most airports nationwide – minimizing opportunistic drivers that overcharge passengers… but it seems no one has had the foresight yet on the island.
Heading to White Beach on foot from the main road, you're confronted by labyrinthine eskinitas that snake past hostels, chaotic store fronts, and even humming generator sets, before you can finally relish the view of the shore. Even then, don't expect to have the beach to yourself as there you are probably going to find hundreds or so more tourists trying to enjoy the sea.
AN INVASION LOOMS?
Lastly, to say that Boracay is swamped by Chinese tourists is an understatement. I truly believe that at any given time now, Chinese nationals outnumber the Filipino and foreign visitors on the island combined.
The defecation kerfuffle along Station 1 aside, travelers from mainland China can be some of the most difficult tourists to manage for those in the hospitality industry. In my short stay on the island, I witnessed not one, not two, but five instances of Chinese nationals bickering with hotel and restaurant staff: one involved a woman who insisted on boarding a fully-occupied shuttle bus with her child, another was a man who refused to be disallowed from smoking on the premises of a resort, and then a lady who tried to shoo us away from the table we were already occupying at a beach-front restaurant.The language barrier plays a large part in this, of course.
Still most of Boracay's establishments have done their best to cater to the Chinese, most restaurant menu featuring in large texts Chinese translations with prices already indicated intheir yuan approximate.
The island remains a gentile destination for backpackers and luxury-seekers alike, with its stretches of picturesque beaches and relaxing vistas… but has Boracay truly already been "saved?" I say no, or not yet at least. /PN