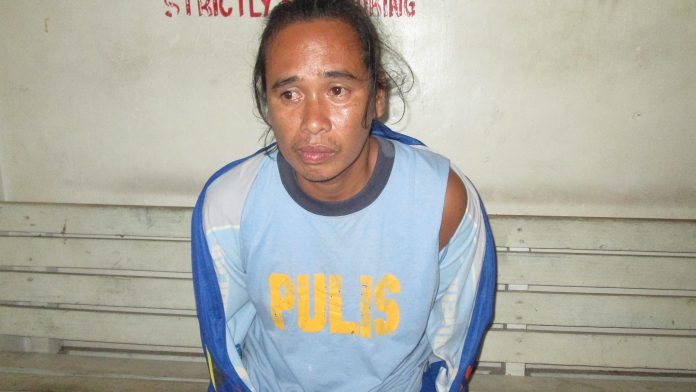 ILOILO City – He was the first violator of the election gun ban in Western Visayas, according to the Police Regional Office 6 (PRO-6).
The 33-year-old Jonathan Sison was arrested inside the Ana El KTV bar along Mabini Street in Barangay Zone 5, Cadiz City, Negros Occidental around 1:30 a.m. on Saturday, the first day of the filing of certificates of candidacy for the May 14 barangay and Sangguniang Kabataan elections.
A .357 revolver loaded with five live bullets was recovered from Sison, a resident of Barangay Cabahug, Cadiz City, a police report showed.
Sison was wearing a police athletic uniform (the one with the word "Pulis" printed on it) when he was arrested.
"Only [police] personnel can wear our athletic T-shirt uniform. Civilians are not allowed," said PRO-6 spokeswoman Chief Inspector Joem Malong.
Aside from charges for violating the election gun ban, Sison will also face charges for usurpation of authority, Malong added.
Sison was detained at the Cadiz City police station lockup facility.
Meanwhile, PRO-6 director Chief Superintendent Cesar Hawthorne Binag said the nationwide installation of checkpoints was effective in maintaining peace and order.
He added that some checkpoints in Iloilo and other parts of the region were removed due to the absence of threats in the areas.
"Checkpoints have been stopped because we have not received threats, but we have to conduct checkpoints every night and day. The implementation was in place and the public were cooperative," said Binag.
On the other hand, two men got injured when they tried to evade a checkpoint in Barangay Poblacion Ilaya, Lambunao, Iloilo yesterday, PRO-6 records showed.
Residents Ranel Hurada and Rey Galino were confined at the Lambunao District Hospital for the treatment of their head and leg injuries.
Hurada and Galino were on board a motorcycle and were drunk when they passed by the checkpoint around 12:30 a.m., police said.
But they refused to stop, drove their vehicle fast and crashed against the checkpoint signage.
Hurada and Galino will be facing appropriate criminal charges, added the police./PN