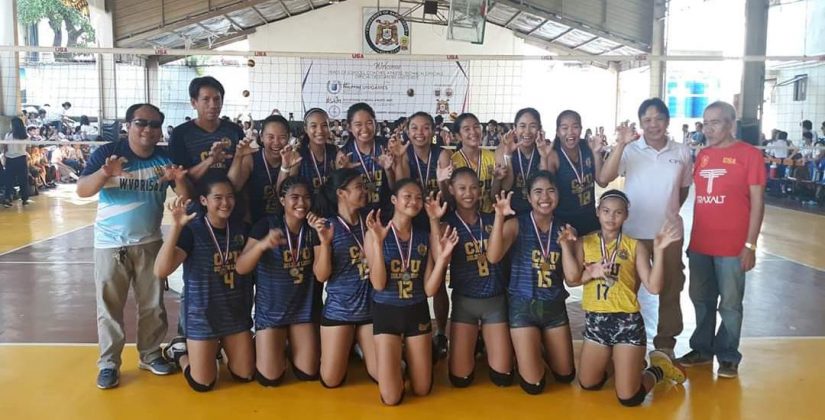 ILOILO City — Central Philippine University Golden Lions reasserted its mastery in secondary volleyball by taking the girls and boys crown of the ILOPRISAA Meet 2019 at the University of San Agustin Gym here.
The Golden Lions nabbed its 14th consecutive secondary girls volleyball tiara with a 25-11, 25-16, 25-23 sweep of the University of San Agustin in the finals on Thursday.
The Golden Lions were armed with a twice-to-beat incentive for being undefeated in the entire competition and did not waste it. They finished the SanAg off in one match.
Among the players for CPU girls were Clarisse Cordero, Isobel Alcantara, Railyn Alcarte, Antea Aposaga, Fiona Arroyo, Henia Celiz, Jane Dela Cruz, Meg Hondrade, Arianne Kew, Gabrielle Sasuman, Yvonny Pajarito, Josline Salazar, Trixie Sampiano, and Rossy Sumalacay.
The Golden Lions also netted their seventh straight title in the secondary boys event after a 25-13, 27-25, 25-21 win over Hua Siong College of Iloilo Red Phoenix.
However, CPU was tested in the third set as they were down 17-21 before pulling off a huge fight back to take the crown in just one game.
Leading the CPU team were Paul Azote, Lawrence Borra, Vince Codico, Jhon San Jose, Kurt San Jose, Paul Parreño, Miles Atienza, Jose Bantolo, Xjhan Camaymayan, Venz Canuto, John Dedoroy, Dan Janolino, and John Noble./PN