"Those of us who still remember – we know nothing but longing." (Eliza Victoria, from "Maps")
"IN a predominantly 'happy' and 'resilient' culture, grief, sadness, loss are often swept under the rug to make way for saccharine happiness," young Negrense artist Ginoe Ojoy told Panay News, as his first solo show "Good Mourning" opened at the Artinformal Gallery in Mandaluyong, Metro Manila.
Curated by Ricky Francisco of the Lopez Museum and Fundacion Sanso, "Good Mourning" sees Ginoe piecing together an altar tableau for his late father, collecting imagery that remind of and evoke the beloved patriarch of his family, in a quest to come to terms with his loss.
The Silay, Negros Occidental-native lost his father, Noel Ojoy, in October 2017. By coincidence or by fate, Ginoe has put together a worthy homage in "Good Mourning" nearly a year after his dad's untimely passing.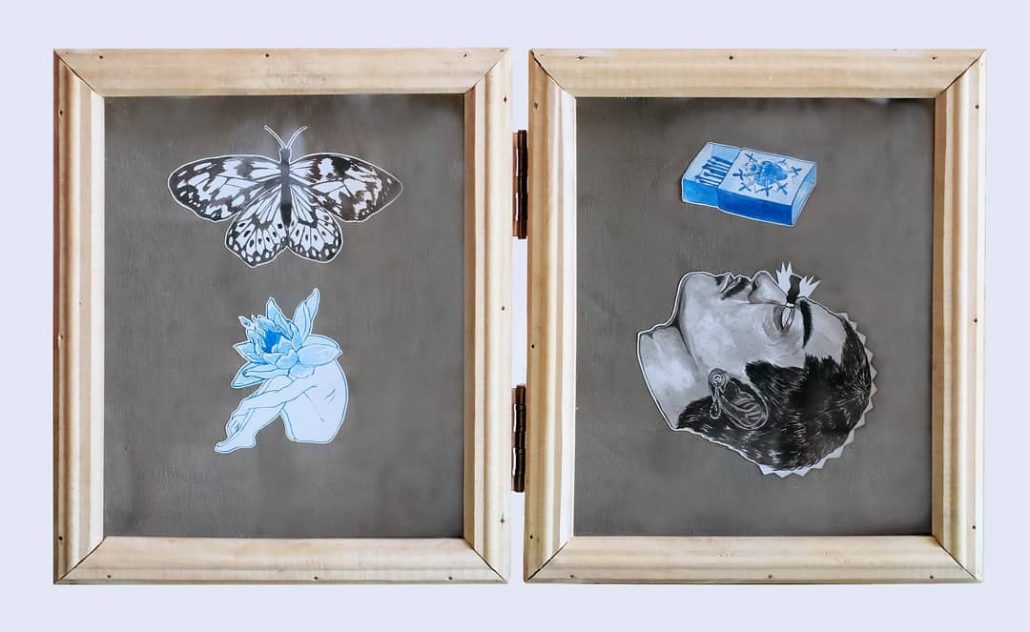 "The passing of my father was abrupt, unexpected. During the entire ordeal, I was disassociating and retreating back in the darkest caves in my psyche. I had to be strong for the family my father has left behind so I wasn't properly given the time and space to fully grasp the loss," related Ginoe.
"These [pieces] are my attempt at embodying the hazy images embedded in my memory from the news of my father's passing up until his burial. I relied [heavily] on the objects during that time, especially funerary ornaments, to ground me and inform me of what is actually happening. They were the only things that stayed the same while everybody else was crumbling around me," he continued.
In "Good Mourning," Ginoe surfaces imagery we've come to accept to be synonymous with loss and death: Flowers, memorial ribbons, tears, ornate candleholders – but the raw pieces betray a more intimate disclosure from the earnest artist, as he hints at the passions and inner lives of his father and his family through his art.
"Good Grief" has ribbons inscribed with the customary "Our Condolences and Prayers" streaming down his father's face instead of tears, a wreath-engraved ashtray festooned on his forehead. The revealing "Basang Sisiw" depicts a hatchling drowning in its own tears, as it calls out to a heavy-eyed face adorned with the severed claws of a rooster. Ginoe, meanwhile, pays tribute to his widowed mother Rosene in "Unwilting," showing her headstrong and level-headed, her face framed by fabric flowers in bloom, preserved in perpetuity in concrete.
"My father was an agriculturist, poultry farmer, and a self-taught foreman," explains Ginoe. "While my mother is an avid collector of faux-porcelain pieces, a master-cutter and dressmaker, a florist and an all-round crafter."
Severe wooden frames outlining each of the pieces prove reminiscent of bare-faced coffins, while the placid concrete faces his illustrations are mounted on lend both literal and symbolic weight.
"'Good Grief' was the first artwork that was conceived from the entire show and I think it informed the way I formulated the other images," he added.
Ginoe reveals that "Good Mourning" is a subversion of the classic Filipino towel brand "Good Morning" and its memorable typography – evident in the glass-bead embroidery on "Lotto" and "Lotto 2," above which a tearful self-portrait of Ginoe sits, evocative of the blood-stained cloth of St. Veronica.
Ginoe's penchant for iconography is apparent in his symbolism and assemblages, reconstructing and picking up the pieces of what has previously destroyed and devastated him: His father's untimely death.
The young artist hides in plain sight his most treasured tribute to his father: in his diptych "Last Minute" – next to drawings of a butterfly and a box of matches – is a figure in a semi-fetal position, a flower blossoming where the person's head should be, an illustration Ginoe has named "Liliboy."
"Throughout my life as an artist, this will probably be one of the most memorable pieces of work I'll ever do: the honor of designing the tombstone of my father," Ginoe had shared prior to his father's funeral last year, opening up about the image on his dad's gravestone.  "My father passed his image unto me and I shall return the favor by crafting his eternal material image here on earth. He was famously known for his moniker as 'Liliboy.'"
"I want people to realize that facing the loss head on and realizing things can start to heal is a healthier way of moving on from a loss of a loved one," mused Ginoe. "'Good Mourning' is a reminder of the material reality of death, on how it is not as dark as it is illustrated. The loss of one can be a chance to appreciate those left around you."
To his late father, Ginoe shares this message: "My supporter, cheerleader. Thank you for everything you've given us. You did everything in your power to make life comfortable for us. Rest well, dad. I'm so sad you wouldn't be able to attend my first solo show anymore. You were there every time I had mall art shows when I was in college, when I had no money to fund my passion. Thank you for your love, kindness and generosity. You are one of the most selfless people I know and I aspire to be the man you are someday. Rest in peace Daddy Noel, lab-uton namon ang mga handum mo para sa amon. We'll take care of our mom and we will make you proud, please don't worry too much about us. I love you, de."/PN