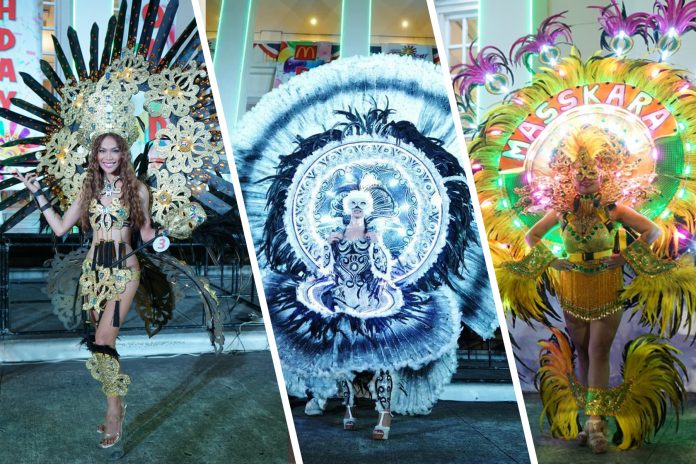 MASSKARA Festival is indeed a great venue for showcasing the creativity of Bacolodnons. This is evident in one of the festival's side events – the "Nights of Mardi Gras."
Bacolod's homegrown designers once again unveiled their craftsmanship through the annual fantasy costume competition which had its elimination rounds on Oct. 16 and 17.
Some 40 models in fantasy costumes have paraded the public plaza during the two-night affair but only 12 advanced to the finals on Oct. 19.
"Look at how artistic the costumes are. These fantasy costumes, they are made just from recycled materials," festival director Eli Francis Tajanlangit said.
He added: "This year's MassKara Festival has made me realize that Bacolod is a 'City of Creativity'…We live with creativity; we do things with a sense of style, with art."
The grand finals was held at the Bacolod City Government Center – one of the three festival venues of MassKara.
Out of the 12 finalists, only four were declared victors. Designer Jude Chael and his model Elona Jane Willis were adjudged as this year's winner.
Chael said the costume he made was inspired by the "Rio de Janeiro Carnival Queen," adding that he used feathers and lights to make his masterpiece stand out.
Chael and Wllis received a P10,000 cash prize.
Model Dinahver McQueen, who also wore the design of Chael, was declared 1st runner-up, with an P8,000 cash prize.
Model Lowelyn Tiberio and designer Christian Custodio placed 2nd runner-up, receiving a P6,000 cash prize; model Marjorie Langcoy and designer Joemel Jalelo were declared 3rd runner-up with a P4,000 cash prize; and model Rose Marciana and designer Ethel Donoso, 4th runner-up with a P3,000 cash prize.
"Every year, the standards are getting higher. They've got bigger and more massive designs. The quality of their work becomes better. They upgrade in terms of designs, materials, and colors," said event coordinator Jesryl Bangcaya. (Photos by Mae Singuay/PN)