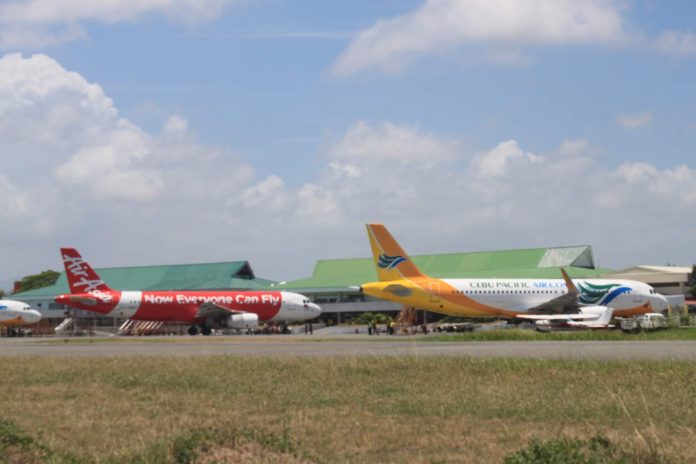 KALIBO, Aklan – Airline companies will reintroduce flights to Kalibo International Airport when Boracay Island reopens.
International and domestic flights are expected to resume at the KIA, the main gateway in this capital town, on Oct. 26.
Tourists from China, Taiwan, South Korea, and Southeast Asian countries significantly dominated the inbound tourism market of the world-renowned island resort last year.
Pan Pacific will resume four daily flights from Kalibo to Incheon, South Korea, and a daily direct service from Kalibo to Busan.
Jin Air, a South Korean low-cost airline, will again fly daily between Kalibo and Incheon.
Juneyao Airlines, on the other hand, will once more connect Shanghai Pudong travelers to Kalibo on Tuesdays, Thursdays and Saturdays.
Air Asia Zest, meanwhile, has five daily flights between Kalibo and Manila.
It will resume its three daily flights to Incheon and four weekly flights to Busan (Wednesdays, Thursdays, Saturdays, and Sundays), and a daily flight to Shanghai.
The 9 Air, a subsidiary of Juneyao Airlines, will operate three flights per week to Chengdu (Sichuan), Shouguang (Shandong) and Canton in China (Mondays, Wednesdays and Fridays).
Cebu Pacific's daily flights to Taipei, Taiwan and Incheon will resume, too.
Its six weekly flights to Shanghai and four weekly flights to Peking (Tuesday, Thursday, Saturday, and Sunday) will serve mainland China travelers.
Cebu Pacific also flies from Kalibo to Shenzhen in Guangdong, China on Tuesday, Thursday and Saturday.
Aside from its international trips, the local airline also operates eight daily flights for the Kalibo-Cebu and Kalibo-Manila routes.
When Boracay reopens, the KIA also reopens its doors to travelers from Foshan (Guangdong), Kunming, Nanjing, Wuhan, Tianjen, and Changsha in mainland China to boost efforts in attracting more foreign visitors. (With Aklan Forum Journal/PN)