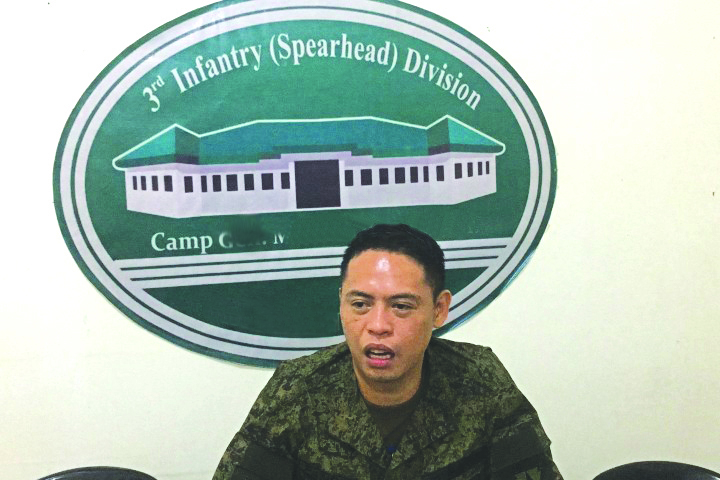 ILOILO City – As Christmas Day draws near, Philippine Army's 3rd Infantry Division – which operates in the islands of Panay and Negros – is standing pat on its decision to reject a holiday truce with the communist insurgents.
Army Captain Cenon Pancito III, spokesperson of 3ID, claimed that suspensions of military operations have not worked to the best interest of the country's armed forces.
He said communist guerrillas would take advantage of the truce "to regroup, refurbish, and recruit" but government forces will not give them that leeway.
"If we continue to put the enemies under pressure and maintain our offensive operations, doon magkakaroon ng demoralization on their part. Dapat walang lull sa operation natin kasi doon sila
makakapag consolidate, makakapag regroup – 'yan hindi dapat hayaan," said Pancito.
Pancito, however, explained that the final decision would still depend on the higher command.
"Whatever the decision, we will follow," he said. "We have to obey kung ano ang instruction ng nasa itaas pero dito sa ibaba kung tayo lang masusunod, ayaw natin ng ceasefire."
The 3ID spokesperson also said that the military does not want the rebels to use the holiday truce as an opportunity to celebrate their 50th anniversary.
"We have in fact fortified our positions to repulse any attacks by the communist NPA, which will celebrate its founding anniversary on this Dec. 26," he said, adding that communist insurgents have so far made no threats.
But Cenon said government troops will remain on alert and ready to repulse any attacks.
"Once again, we are calling the rebels to surrender in order to stop revolutionary armed struggle and accept the government's program for them," Pancito added.
The NPA, founded in 1969, and listed as a terrorist organization by the United States and the European Union, is among the oldest Communist guerrilla groups in Asia./PN