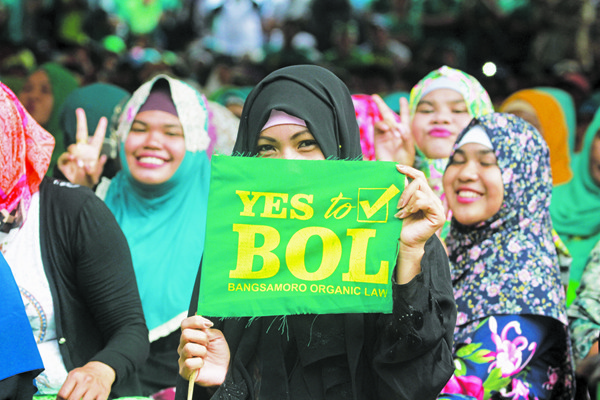 MANILA – The ratification of the Bangsamoro Organic Law (BOL) offers a "ray of hope" for people in Mindanao, Presidential spokesman Salvador Panelo said in a statement.
Panelo said on Sunday that the overwhelming result of the BOL plebiscite last Monday only showed Mindanaoan's desire to attain lasting peace following years long of arm struggle.
"The sovereign voice of the participating voters in the just concluded plebiscite has spoken, ushering a ray of hope to that war weary, poverty stricken, long neglected and much heralded promised land of the fifties," Panelo said.
"The Bangsamoro Organic Law has been officially ratified, it behooves the discordant voices to yield to the rule of the majority," he added. "We hope that those who voted against the BOL would yield to the rule of the majority."
The Commission on Elections (Comelec) en banc, sitting as the National Plebiscite Board of Canvassers, on Friday have "deemed ratified" the BOL after getting more than 1.5 million favorable votes during the first plebiscite.
"The quest to lasting peace in that region saw not only the bloody encounters among the Muslim combatants but spawned more conflicts as well, giving birth to more armed groups and violent hostilities to the sufferance of the Bangsamoro people and the Christian inhabitants," he said.
"To the credit of the Muslim warriors, they made way to another thrust for the elusive peace as they participated in a democratic process weighing in their collective voice," Panelo added.
The BOL will replace the Autonomous Region in Muslim Mindanao (ARMM) with a Bangsamoro Autonomous Region in Muslim Mindanao (BARMM) with an expanded land and water jurisdiction, fiscal autonomy, increased share in national government resources, among others.
This is seen as the final step in the peace agreement between the government and the Moro Islamic Liberation Front, which has been leading a separatist insurgency since the 1970s./PN