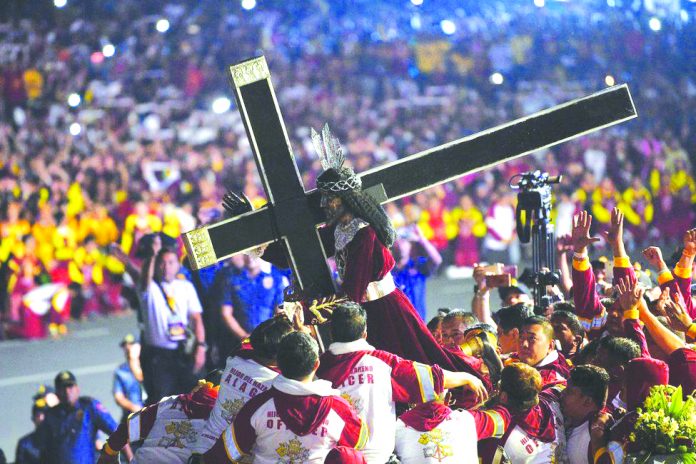 MANILA – Manila Archbishop Luis Antonio Cardinal Tagle urged the devotees of the Black Nazarene to show their devotion everyday and not only during the annual Traslacion.
In his homily during the feast of the Black Nazarene midnight mass at the Quirino Grandstand, Tagle reminded the supporters that devotion is a daily act in every part of the globe.
"Nakakatawag pansin ang ika-siyam ng Enero ng bawat taon dahil parang naipapakita ng bawat deboto ang sidhi ng kaniyang pamimintuho kay Poong Hesus Nazareno," Tagle said.
He added: "Pero hindi nababanggit kalimitan na ang debosyon sa Poong Hesus Nazareno ay hindi lamang tuwing January 9. Ang debosyon sa Kanya ay hindi lamang sa Traslacion."
Tagle also noted in his homily that true love, honest service and unity with Jesus is what makes a true devotee to the Black Nazarene.
"Pagmamahal na wagas, katapatan na naglilingkod, at pakikipagkaiisa kay Hesus, yan ang deboto ng Poong Hesus Nazareno," he said.
The yearly Traslacion commemorates the first procession transferring the life-size image of Jesus Christ from a church in Intramuros to the Minor Basilica in Quiapo on Jan. 9, 1767.
The annual procession draws up more than 15 million devotees, many clawing and climbing over each other as they attempt to touch or wipe towels on the statue of Christ bent under his cross, which is believed to be miraculous./PN