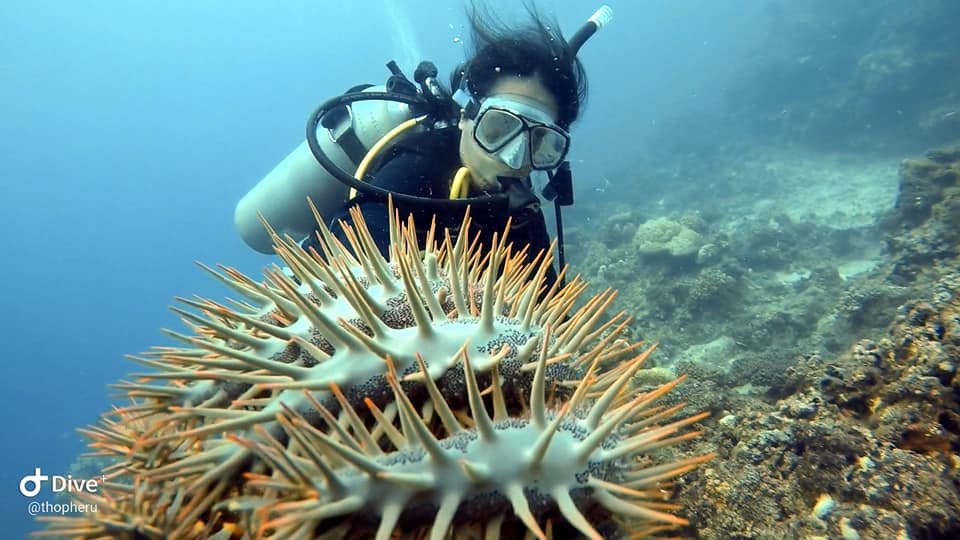 ILOILO City – There is an outbreak of the coral-destructive crown-of-thorns starfish in the waters of Culasi, Antique. One of the largest in the world, the spiny and toxic starfish prey on hard or stony coral polyps, according to Christopher Salao of Basecamp Divers in Panay.
The local government unit of Culasi has sought the help of the group and other professional divers. Salao said their team was providing technical assistance to the Municipal Environment and Natural Resources Office (MENRO).
In a recent two-day operation, a team of seven divers was able to remove around 500 crown-of-thorns from the waters of Mararison Island and Maniguin Island whose beaches are fledgling tourist attractions in Antique.
According to Salao, the problem is not unique to Culasi. The predator starfish are in fact decimating large tracts of coral reefs throughout the country. He said an individual can consume up to six square meters of living reef per year.
The outbreak in Culasi could be due to the increase in water temperature or nutrient levels, said Salao.
Some of the starfish's major predators such as the humphead wrasse and giant triton, which usually keep the species in check, have declined in recent years as a result of overfishing, he added.
When their group visited Culasi last year, Salao said, the population of crown-of-thorns was already beyond normal. Now, he said, it has become alarming.
"Just imagine the corals na posible ma-wipe out. Affected gid ang mga isda," Salao said.
This is on top of the danger the starfish pose to humans. Crown-of-thorns' long spines are capable of severe stings.
Contact will almost surely inflict severe swelling, pain and nausea that can last for hours or days, said Salao.
Regarding the extraction of crown-of-thorns, Salao said only experts such as professional divers should do the job.
"Because this starfish is very sensitive. Once ma-agitate or sala lang pagkimpit, it can release 100 to 1,000 eggs which can mature in two to three years. This can worsen the situation," said Salao.
According to a World Wildlife Fund (WWF) survey, outbreaks of crown-of-thorns starfish have been reported at Apo Reef and Puerto Galera in Mindoro, as well as Mabini in Batangas, Roxas in Palawan, Bolinao in Lingayen Gulf, and Kiamba and Glan in Sarangani Bay.
WWF-Philippines chief executive officer Lory Tan, as quoted in a sciencedaily.com article, said the best response to the outbreak is by putting a stop to overfishing and agricultural runoff, and to better manage sewage./PN