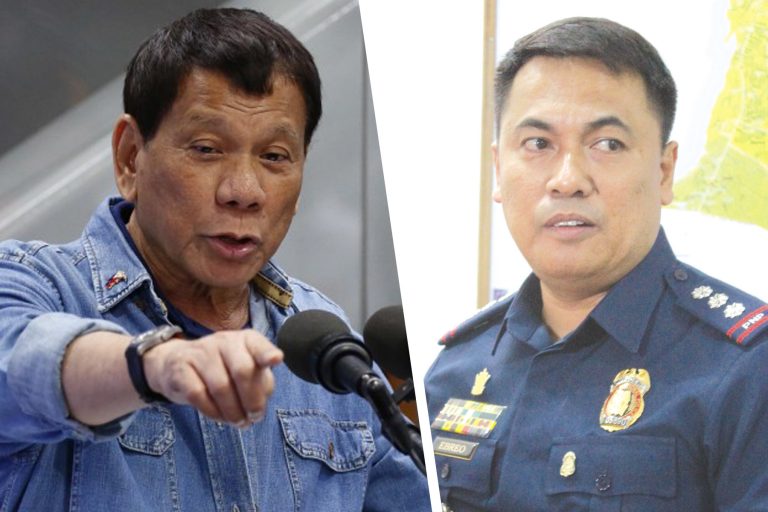 MANILA – President Rodrigo Duterte said he found it strange that then Bacolod City police director Senior Superintendent Francisco Ebreo, instead of a "topnotch investigator", visited ambushed Councilor Ricardo "Cano" Tan at the hospital following the incident last December.
He sacked Ebreo on Jan. 12 for allegedly protecting drug syndicates.
Speaking to journalists in Malacañang on Jan. 16, Duterte said, "You know there was this si Cano, a councilor who had been tagged by PDEA (Philippine Drug Enforcement Agency) almost a decade ago in (drug) trafficking, na-ambush."
Tan and his wife were ambushed on Dec. 14, 2018 in Barangay Alangilan, Bacolod City. He was cleared by PDEA Region 6 from drug involvement despite Duterte's linking.
The President said Ebreo assigned a security to Tan following the ambush.
"What's his fucking business? You are going to the hospital…tapos nag-iwan pa ng dalawang security?" said Duterte. "Nagtataka ako kung bakit ganoon. Strange behavior."
According to the President, "There were about three ambushes before that incident na pumunta sila sa ospital, silang dalawa ng deputy niya and they assigned security."
At a birthday party of Vallacar Transit chief executive officer Leo Rey Yanson in Bacolod City on Jan. 12, Duterte stunned guests when he announced the dismissal of Ebreo and four other Bacolod City police officials.
The four others were Superintendent Allan Macapagal, deputy city director for operation; Superintendent Ritchie Yatar, chief of City Mobile Force Company; Superintendent Nassrudin Tayuan, former team leader of the City Drug Enforcement Unit; and Senior Inspector Victor Paulino, former chief of Police Station 3 who was re-assigned to the City Mobile Force Company last month.
Two days after sacking the five policemen, Duterte ordered a lifestyle check on them, according to Chief Superintendent John Bulalacao, Western Visayas police director, during a closed-door conference in Malacañang.
Duterte also berated the policemen during a meeting in Malacañang on Jan. 15.
"Wala sa drug watch list ng Philippine National Police (PNP) si Ebreo. Pero alam natin na malawak ang kaalaman ng ating Presidente. Baka may nakita siyang evidence," said Bulalacao.
The regional police director also revealed that the four other police officials were already under investigation for the proliferation of illegal drugs in Bacolod City and alleged protection of commissioned and non-commissioned officers of the Bacolod City Police Office involved in illegal drugs even before the President ordered their relief.
"I believe the President. He has many sources of information," said Bulalacao.
The five police officers denied involved in illegal drugs.
"Of course, they deny it. That is the reason why the President said we should conduct a full-blown investigation and if they will be found guilty, they will be discharged from the service," said Philippine National Police's Director General Oscar Albayalde.
The country's top cop clarified that the relief of the policemen did not mean they were already guilty.
He said the policemen would be given due process./PN