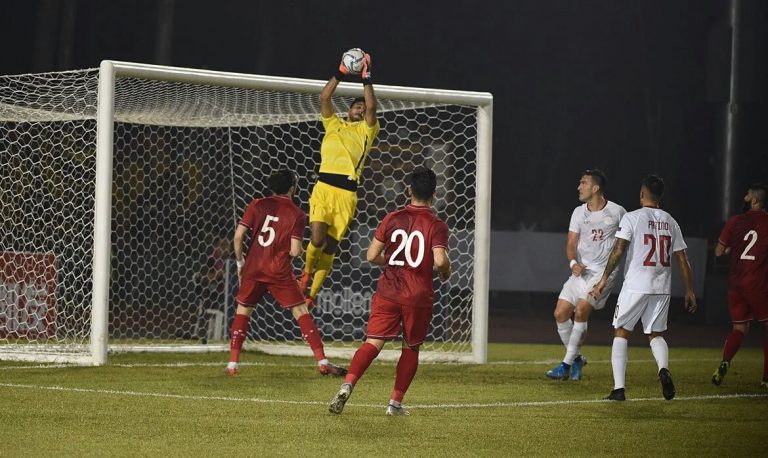 MANILA – The Philippine men's football team started its campaign in the 2022 World Cup / 2023 Asian Cup qualification on a wrong foot. It lost to Syria, 5-2, at the Panaad Park and Stadium in Bacolod City.
The Azkals had a rousing start to the delight of 2,645 home fans but the Syrians, who were 87 spots higher than the national team in the world rankings, regained its bearing just in time for a lopsided defeat.
Javier Patino surged the Azkals ahead at the seventh minute with a header over the defense of Syrian goal keeper Ibrahim Alma. But the visitors easily leveled the score at 1-1 with Omar Al Soma's header at the 15th minute.
Not long after, the Syrians seized a 2-1 advantage as Khaled Almbayer eluded Azkals defender Martin Steuble and unleashed a stunning strike at the half-hour mark of the opening half.
The Syrians went on with its onslaught in the second half. Firas Mohammad Alkhatib drained a penalty on a handball violation by Azkals' Daisuke Sato.
Al Soma nailed his second goal, a header at the 56th minute to make it a 4-1 count.
The Azkals managed to trim the deficit to 2-4 at the 84th minute following a conversion from Mike Ott. The Syrians, however, was quick to restore a three-goal edge on a strike by Mahmoud Almawas.
Following the lopsided defeat to the Syrians, the national men's football team will shoot for its first victory in the qualifiers when it battles Guam at 1:30 p.m. on September 10 at the Guam National Football Stadium./PN