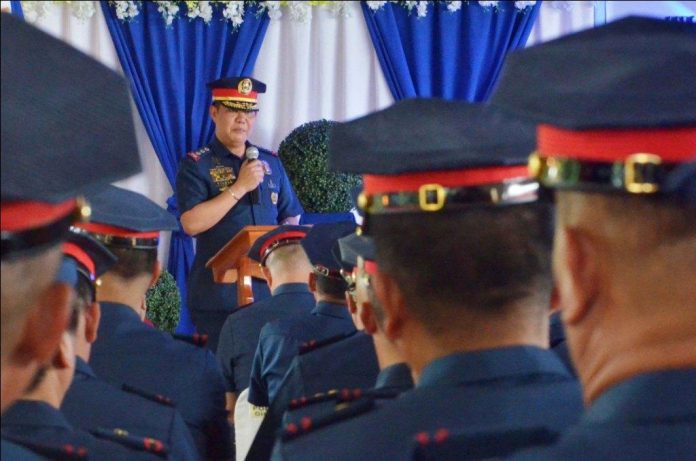 ILOILO City – Somebody is passing himself off as Police Colonel Roland Vilela, director of the Iloilo Police Provincial Director, and asking money and mobile phone load.
Alert the police immediately if you encounter this person or have received a call from the impostor, Vilela appealed to the public yesterday.
It was Pavia, Iloilo's Mayor Lawrence Anthony Gorriceta who alerted Vilela about this racket during the police official's courtesy call to the mayor yesterday.
"I would like to inform the public that your police provincial director is not soliciting money from anyone for anything. I have money to buy my phone load. Hindi ko gawain na manghingi ng pera kahit kanino man," said Vilela.
He also stressed that the IPPO has a budget for its fuel requirements.
Mayor Gorriceta informed Vilela that a contractor in Pavia had been tricked into giving P6,000 phone load to the impostor.
Vilela condemned the illegal activity and ordered the Pavia police to conduct an investigation.
"I suggest that this impostor surrender before we get to him," said Vilela.
He added: "I ask everyone not to entertain those asking money using my name. Should Iloilo police need support, I will meet you and discuss proposals. We will not do it underground."
Vilela believed there could be attempts to destroy his integrity "because may pinapatupad tayo na mga law enforcement campaigns. Baka may naapakan ako na gustoakong sirain."
In July, this paper reported that there could be a syndicate fooling people into giving it money or cellphone load by namedropping prominent personalities.
Recent victims of this scam reported having received calls from persons claiming to be or representing two police officials in Iloilo City and Negros Occidental, and a Sangguniang Bayan member of Pavia.
Iloilo City Police Office (ICPO) director Police Colonel Martin Defensor warned the public not to fall into this scam. His name was used in an attempt to exact money for cellphone load from two businessmen.
"I would like to inform the public and businessmen that I never ask for our gasoline because we have our own money from the higher command for our fuel requirements. Also, I also never ask money for my cellphone load. I can afford to buy load for my phone," said Defensor.
The city police director learned about this scam from two businessmen who asked him about the phone calls they received supposed from him or from persons claiming to represent him.
"I ask the public, businessmen and offices to verify first or call me if somebody asks them money using my name," said Defensor.
Sangguniang Bayan member Daniel S. Fajardo II of Pavia, Iloilo issued a warning similar to Defensor's.
He learned of the scam from a citizen wise enough to verify with him first after receiving a call from a man namedropping him for P1,000 cellphone load.
In a public advisory, Fajardo urged those receiving similar calls to secure the mobile phone numbers of these scammers and report them immediately to the police.
"I do not solicit, ask or demand cellphone loads or anything from anybody nor have I authorized anyone to do these things," stressed Fajardo.
Negros Occidental Police Provincial Office director Colonel Romeo Baleros was also namedropped.
"Do not be fooled. It is the modus of swindlers to use names of people in authority," said Baleros.
On Tuesday, two persons were duped into giving P5,000 worth of cellular phone load to callers who claimed to be Baleros or representing him.
One of the victims was a contractor; the other was a government employee./PN